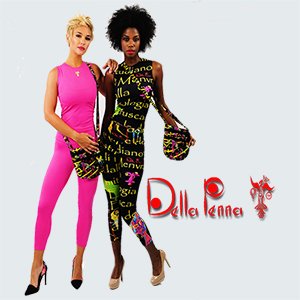 Florida fashion designer Michael Della Penna has introduced what could be the most versatile and creative women's fashion sportswear brand created in the USA. A statement as bold and vibrant as the colors of this abstract art-based sportswear line that can be worn as workout gear or as trendy and fashionable upscale attire for a dinner party or club attire for a trendy nightclub. Della Penna Fashion is currently running a Kickstarter campaign to kick off the line and give prospective customers a chance to get some great deals in exchange for pledges. We recently spoke to Della Penna and went over the basics of his goals for the new clothing line.
The Main Problem: Over 95% of women's fashion sportswear sold today is not exciting, with repetitive stock prints, dull colors, and made with low tech fabrics. Mass production of sportswear is being outsourced overseas causing an increase in supply and price deflation in the U.S. wholesale channel, which is already overwhelmed with product that all looks the same, which is a challenging problem when customers search for a unique and innovative product but see limited options from top companies already selling women's fashion.
The Art: Based on their surveys, 89% of female participants consider art, that is printed on Sportswear, to be a strong element of self-empowerment, self-expression and a visual fashion statement. According to a Forbes Lifestyle article, "Be Bold, Wear A Graphic Print . . . Women should consider incorporating a graphic print. Advancements in sublimated printing technologies and traditional knitwear have resulted in an explosion of complex, colorful graphic print garments. This trend has popped up everywhere from activewear leggings to cocktail dresses."
The Della Penna Fashion Art Collection is all about the creative Original Art Component, and it's not just printed on leggings, but printed on everything that the brand manufactures, unlike most top women's sportswear brands who shy away from placing bold art on their tops, jackets and dresses. Della Penna stated "Each garment is designed and printed with a digitally engineered method using bright color saturation and special effects that offer a powerful visual impact to our customer. Our survey research also tells us that our collection transcends demographic generations." "Art washes away from the soul the dust of everyday life," – Pablo Picasso.
Made in USA: While more than 97 percent of apparel sold in the U.S. are made overseas, according to the American Apparel & Footwear Association, the Della Penna Fashion Art collection is made in the USA. The main disadvantages of manufacturing outside the US that affect Americans are poor quality, lack of control and most importantly loss of intellectual property. This means that American ideas can be stolen and utilized around the world with almost no legal recourse for American designers.
The benefits of American manufacturing mean investment and finance for the American economy. The more that this reasoning is pushed into national manufacturing, the more the nation's economy will reap the benefits. With growth in American manufacturing, comes a surge in investment opportunities, which benefits all Americans.
The Inspiration: Michael Della Penna is a student of Art History and has always believed that Art and Fashion have inspired each other since the beginning of creativity. He draws inspiration from mythological stories which explain our beliefs and our history; thus, providing a rich source of creativity. This inspiration fosters profound creativity that offers the customer a product unlike other fashion sportwear manufacturers in the marketplace.
The Solution: Their customers tell them that when they wear the collection, many people, men and women alike, stop them and ask them questions about the clothing such as, "where can I find it?".. or "where did you buy it?" And they comment how unique, exciting and how it projects energy from across the room.
According to Michael, "The benefit to our customers is simply that they feel great and look great when they wear our apparel!"
If you are interested in more information on Della Penna fashions, they are currently running a fund-raising campaign. You can find that info and even get product in exchange for your pledged funds by following the links found below.
Michael Della Penna
727-344-3460
mdellapenna@verizon.net
www.dellapennafashion.com