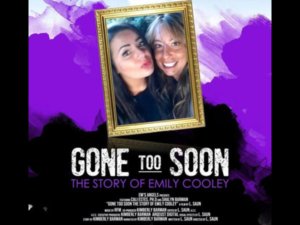 The Art of Recovery Film Festival highlights films that focus on sober living and recovery. Recovering addicts and alcoholics from all over come together for a charitable cause to raise money and awareness for addicts using art as their form of therapy to heal and grow.
The film, "Gone Too Soon: The Story of Emily Cooley" describes the emotional story of Emily Cooley, a Milan, Ohio native who became addicted to opiates after a car accident and subsequent surgery. Unable to find a path to recovery, Emily tragically succumbed to addiction and a heroin overdose.
"Gone Too Soon" is a storyline all too common throughout America. The producers and director want Americans to see and realize that addiction surrounds us. They hope the viewers will come away with an understanding that this problem is real, it's happening to our children, friends, and neighbors, and that we need to quickly find help for those caught in its crosshairs.
The powerful documentary, and the other films during the festival, are designed to bring awareness to the ongoing addiction challenges faced by millions of Americans directly affected by substance abuse disorder.
Dr. Estes commented, "It's a very sad story that is being told too often, we are all touched by this difficult yet treatable issue. We are trying to create an open dialogue and a support community around addiction so those needing help can feel free to find it, because it's there for them."
Dr. Estes, a featured speaker at the show is attempting to help end the stigma surrounding addiction and recovery issues. In her recent bestselling book "I Married A Junkie" Dr. Estes and her husband, professional drummer Tim Estes came clean about their amazing story as the couple struggled with Tim's heroin addiction which threatened to end their relationship and his life.
The Art of Recovery Film Festival recently took place on July 28and 29th at the Stonzak Theater in Lake Worth, Florida. The Festival encompasses an art show and film festival that is sobriety and recovery centered.
Proceeds from the event aid For The Children Inc. which provides culturally sensitive programs that validate and empower students to succeed at school and in life. Face Tha Muzik, an organization delivering professional training in Music Industry Careers to youth and young adults in need is also a benefactor.
To view "Gone Too Soon: The Story of Emily Cooley" vist: https://vimeo.com/280086884 or https://www.youtube.com/watch?v=DpMFpc2U9QU
All Art of Recovery Film Festival events are free and open to the public. For more information: http://www.theartofrecoveryfilmfestival.com/
To learn more about Dr. Cali Estes, The Addictions Coach visit https://theaddictionscoach.com.