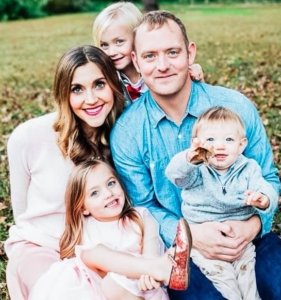 Neil Howe and The Nomadder Podcast welcomed featured guest Stephanie Graves on the show to talk about how travel has become an important part of her family's lives and how they manage to fit in short vacations as often as possible.
Stephanie Graves, the founder of the popular family travel blog Destination Graves, is a wife to Ryan and mom of three your children. After living in rural Maine for too long, they decided it was time to get out and explore the world and maybe even stay in a warmer climate. The settled on Raleigh, North Carolina after doing much research and are so happy they made the move.
The Graves travels, so far, have focused on finding the best places to go within a few hours drive of their home in Raleigh. They have found there are plenty of places to go around their area that satisfy the whole family. From Ashville in the mountains of North Carolina to the beach at Myrtle Beach, SC, you don't have to travel long with children to find exactly what you are looking for. They were even able to satisfy husband Ryan's passion for golf with a visit to Pinehurst, which was very family friendly.
Stephanie also shares how to eat healthy on vacation. As a fitness fanatic, it is important to her to make sure she has plenty of healthy food and snacks for her family. Too often, families get caught up in the fast food cycle when traveling and the immune system can be compromised quickly with a succession of long travel days and late nights. Having a supply of healthy food is essential to keep a strong immune system and fight any colds or illnesses that could hamper the family vacation. It is not only better but cheaper too than eating out every meal.
Stephaine and her family have been on longer trips too. Often making the 12-hour drive down to Orlando to visit Disney. She shares that experiences are the most important to her instead of accumulating things as her fondest childhood memories were from vacations with the family. She wants the same for her family and Disney is one of those places that bring smiles and memories for a lifetime.
Stephanie encourages families to get out there and chase their dreams. Spend time with the people that make you happy and create memories. There is so much to see and experience in the world, even if it is a staycation close to home. Life is short and should be lived to the full so making time to experience it together.
You can listen to the full interview on Youtube,
Listen in as Stephanie shares how she is making her passion for traveling into a lifestyle where her family can get to share their adventures through their growing social media following and family travel blog.
More information about Stephanie Graves can be found at https://www.destinationgraves.com/ or https://www.instagram.com/destinationgraves/
Neil Howe, host of The Nomadder Podcast is a Best Selling Author and Writer for Small Business Trendsetters and Business Innovators Magazine. He has been featured on ABC, CBS, NBC, and Fox News and travels the country full time with his wife, Amanda, daughters, Avie & Paisley as well as their service dog, Bailey.
More episodes from The Nomadder Podcast can be found at https://nohomenomadder.com/family-travel-podcast/