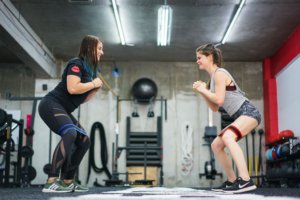 [ST. PETERSBURG, FL. June 2019—] Ready to take your training up a notch? Seriously Strong Training has you covered. Their professional personal trainers are ready to get the 'Burg in the best shape of their lives.
Their newest facility is located in the heart of Historic Kenwood. Their trainers are second-to-none.
The fitness director, Andrew Cao, is certified in strength and conditioning, sports performance, and is an experienced chiropractic assistant. He has a deep understanding of how the body should move and how to build your core strength while avoiding injury.
Mika Rotunda, also a senior staff trainer, has over 10 years of fitness experience under her belt. Having lost over 100lbs herself and growing up in a family of WWE wrestlers, she's got what it takes to get you into the best shape of your life.
Now offering personal one-on-one training and group classes Seriously Strong Training St Petersburg is the place to get serious about your health and fitness.
Seriously Strong Training is a professional personal training gym that offers one-on-one personal training at all levels of fitness. To those just starting out, to veteran body-builders, Seriously Strong Training can take you to the next level of fitness.
For more information: https://seriouslystrongtraining.com/stpetersburg/
Location Info:
Seriously Strong Training St. Petersburg
533 28th St S, St. Petersburg, FL 33712
(727) 273-5066