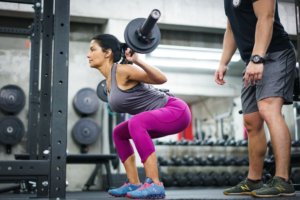 [TALLAHASSEE, FL. June 2019—] Ready to take your fitness to the next level? Seriously Strong Training is the place to become your best. Their professional personal trainers are ready to get Tallahassee into shape.
Located in Breckenridge on Park, their trainers are simply the best.
The fitness director, Athena Landy, is a force to be reckoned with. Having lost over 200 lbs herself she knows what she is doing. She can help you lose inches, shred muscle, and keep it that way. She brings her heart into her training and uses her story to motivate you into working hard and getting results.
Head trainer, Gustavo Ramos, or "Goose", is on his way to a Masters degree in Exercise Physiology while passing on that knowledge to you at SST Tallahassee. He is in charge of creating all of the materials at the fitness center and makes sure all the trainers are bringing it and on their "A" game everyday.
Now offering personal one-on-one training and small group classes Seriously Strong Training Tallahassee is the place to get serious about your health and fitness.
Seriously Strong Training is a professional personal training gym that offers one-on-one personal training at all levels of fitness. To those just starting out, to veteran body-builders, Seriously Strong Training can take you to the next level of fitness.
For more information: https://seriouslystrongtraining.com/tallahassee/
Location Info:
Seriously Strong Training Tallahassee
2901 E Park Ave #1900, Tallahassee, FL 32301
(850) 570-6225