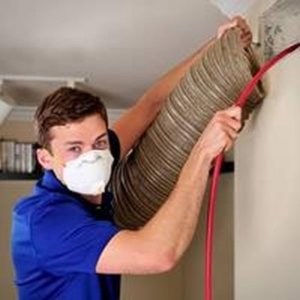 Shawn Primeaux of Blackmon Mooring & BMS CAT has recently been named a Certified Ventilation System Inspector (CVI) after completing the required exam. The HVAC Inspection, Cleaning and Restoration Association (NADCA) administers the certification, which is recognized around the world. Primeaux can now count himself among the very best Ventilation System Inspectors in the world.
"While achieving the CVI certification takes commitment on the part of an HVAC professional, the certification itself is a commitment to consumers of reliable, best-in-class service," said NADCA Executive Director Kristy Cohen. "NADCA membership and the CVI certification mean that a professional is dedicated to providing state-of-the-art service to their customers."
The designation signifies that a contractor has demonstrated a strong knowledge and understanding of HVAC systems and their components. A successful applicant must also follow the accepted methods for conducting a proper inspection. These methods are considered the standard for the assessment, cleaning, and restoration of HVAC systems. There are only approximately 200 CVI-certified contractors in the world.
Air pollution and energy efficiency are big issues for many homeowners. HVAC system cleaning involves removing contaminants and debris from HVAC systems to improve the air quality and energy efficiency of the home. NADCA Certification Program helps consumers make smart choices about their HVAC contractors by ensuring that members have the knowledge and expertise to provide top-quality service to their clients.
Blackmon Mooring & BMS CAT Houston
The water damage restoration company provides full-service disaster response for the biggest jobs in the world. Water, mold, fire and smoke damage restoration teams serving the Houston, TX area. For more information visit https://www.blackmonmooring.com/about-us/
NADCA
NADCA stands for the National Air Duct Cleaners Association, also known as the HVAC Inspection, Cleaning, and Restoration Association. It was formed in 1989 by a collection of HVAC services companies. NADCA's mission is to support those companies who work with HVAC systems, which includes inspection and maintenance. They set industry standards for all of the components of HVAC system cleaning and maintenance, which includes source removal as the sole proper HVAC cleaning method. It currently has around 1,200 members, which includes professionals who engage in cleaning, inspecting, and restoring HVAC systems. For more information, visit www.nadca.com.