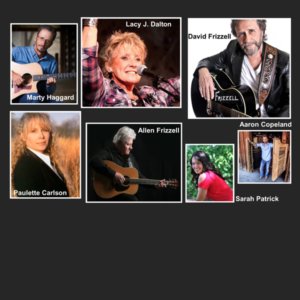 Country music star, David Frizzell, has announced the inaugural LeftyFest Music Festival to be held in Corsicana, Texas on Saturday, June 16, 2018.
The festival is established, in cooperation with the city of Corsicana, to honor the enduring musical legacy of Lefty Frizzell, one of American music's most iconic and influential singer/stylists of any genre. Lefty, who would've turned 90 this year, was a member of the Grand Ole Opry, and was inducted into the Country Music Hall of Fame in 1982. A star on the Hollywood Walk of Fame honors his contributions to entertainment.
David Frizzell http://www.davidfrizzell.com is the younger brother of Lefty. He toured with Lefty in his youth, before being signed to a record deal of his own, and going on to a multi-award-winning career that remains dynamic today. David is a singer, songwriter, touring performer, producer and author.
A chance meeting with Corsicana Chief of Police, Robert Johnson, set the wheels in motion for David Frizzell's longtime dream of a festival to honor his world-famous brother. Johnson arguably the only SAG-AFTRA actor in the world who also happens to be a police chief, is an avid fan of Lefty Frizzell, and was instrumental in the early planning for LeftyFest.