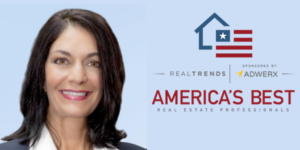 Janyne Kenworthy was named as one of REAL Trends America's Best Real Estate Agents for 2018.
Presented by REAL Trends, Inc., this prestigious award each year ranks real estate agents in America by their overall production and issues a list of the top agents.
Janyne Kenworthy is one of the top real estate agents in Indian River County. Janyne has consistently been a top producing agent since joining the firm, achieving over $27 million in annual sales and being in the top 1% of all Realtors in Indian River County. She has been the #1 listing and/or sales associate at Sotheby's since 2010 and in the top 10 Individual Realtors in the Indian River County Board of Realtors since 2014. Janyne specializes in residential sales from the smallest condo to million dollar plus estates and land acquisition.
According to REAL Trends, nominees are selected based on overall production. To even be considered in the ranking, agents must have closed at least 50 transactions or $20 million in closed sales volume in the previous year.
When asked what being named one of America's Best Real Estate Agents means, Janyne said, "My success in real estate over the past 31 years is because of my strong dedication to my clients. I strive to provide unparalleled service to my clients whether they are buying or selling."
About Janyne Kenworthy:
Janyne Kenworthy is a Treasure Coast Sotheby's International Realty agent with over 31 years of experience in residential real estate sales in Florida. Janyne provides unparalleled service and she looks look forward to developing long-term relationships with her clients. She believes that to be successful in real estate you must be fully engaged in your community. Janyne's goal is to represent clients who expect the highest level of professionalism and personal service – The Right Move In Real Estate!
About the REAL Trends, Inc.:
REAL Trends has been The Trusted Source of news, analysis, and information on the residential brokerage industry since 1987.