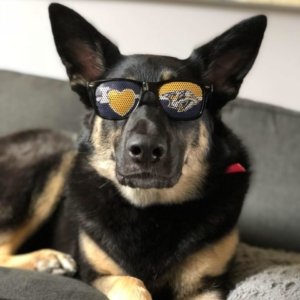 There are fans and there are "Hockey Fans" and then there are "Smashville Hockey" Fans. So, when Ryan Kesler took to Twitter after dropping gloves with Ryan Johansen back in March, you can be assured the "Smashville" Fans had something to say about that, specifically one talking Dog by the name of Landry Agnes Davis, a German Shepard from Nashville, TN.
Landry Agnes loves her team and offers witty commentary before and after each Nashville Predators game. Additionally, the German Shepard is a fan favorite and offered many memes and skits that have kept fans itching during the Off Season. On the Kesler / Johansen Tweet Rumble, Landry Agnes's addresses his recent Tweet in her parody of the Francis Ford Coppola movie, the Godfather where she immerses herself as the "Godshepherd".
In her recent message to Mr. Kesler, she stated the following:
Landry Agnes David tagged Ryan Kesler in her recent Twitter response from her account @landryagnesgsd at the time of this article he has not responded.
Several fans have encouraged Landry Agnes to take swift action against Mr. Kesler however she concluded in this interview she will encourage the Nashville Predators to respond swiftly by dominating the Ducks on Nov 8 when the Teams face off for the first time this season. It's a good bet that the "Godshepherd's" Pregame interview along with the Kesler – Johansen feud will be one to watch that day.
The NHL season begins in October and hockey fans are gearing up for an exciting year. Fans who want to see high energy would do themselves a favor by catching a game or two in Nashville this year.