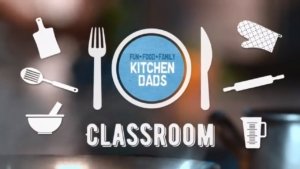 "The goal of my book,
Kitchen Dads The Basics: Have Fun in the Kitchen with Family and Friends Cooking Real Food,
was to help people learn the basics of cooking and have fun in the process. It covers the essentials of cooking including equipment, basic knife skills, common cooking terms, shopping tips and more. It's also packed full of tips, charts and guides as well as over 100 easy-to-make and delicious recipes," states Pelloni.
The book was released earlier this year and quickly became a best seller on Amazon in the cooking and instructional categories.
Pelloni continues, "After my book came out I had lots of requests to create instructional videos to go with it, this is how Kitchen Dads Classroom was born. You can spend 10 minutes reading about cutting an onion in a book but I can show you in a video in 30 seconds."
Kitchen Dads Classroom covers a number of topics including getting ready to cook, essential kitchen equipment and their uses, holding a knife correctly and how to use the knife to make specific cuts like chopping, dicing and slicing.