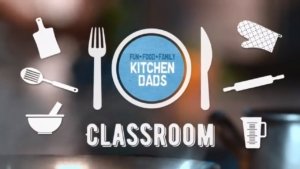 "The goal of my book,
Kitchen Dads The Basics: Have Fun in the Kitchen with Family and Friends Cooking Real Food,
was to help people learn the basics of cooking and have fun in the process. It covers the essentials of cooking including equipment, basic knife skills, common cooking terms, shopping tips and more. It's also packed full of tips, charts and guides as well as over 100 easy-to-make and delicious recipes," states Pelloni.
The book was released earlier this year and quickly became a best seller on Amazon in the cooking and instructional categories.
Pelloni continues, "After my book came out I had lots of requests to create instructional videos to go with it, this is how Kitchen Dads Classroom was born. You can spend 10 minutes reading about cutting an onion in a book but I can show you in a video in 30 seconds."
Kitchen Dads Classroom covers a number of topics including getting ready to cook, essential kitchen equipment and their uses, holding a knife correctly and how to use the knife to make specific cuts like chopping, dicing and slicing.
"There is lots of information out there about cooking and recipes but most assume a certain level of competence to complete. They forgot many people don't even know now to hold a knife correctly. The videos in the course are short and easy to consume, it's like having me in the kitchen with you. It really will accelerate your skills and confidence in the kitchen," says Pelloni
Kitchen Dads Classroom will be released in early December 2018.
About CLIFF PELLONI
Cliff Pelloni is not a professional chef, just a Dad who loves to cook. He grew up in a family who loved food and cooking and wanted to pass that legacy on to his kids.
He started Kitchen Dads as a way to preserve family recipes while teaching his kids some basic cooking skills. Since its inception it has grown into a movement to get not only more Dads in the kitchen but a place where both kids and adults alike can learn how to cook simple, healthy, delicious meals which their families will love and have fun making.
His weekly Kitchen Dads internet cooking show on YouTube is seen by people in over 170 countries around the world. Recipes can be viewed at www.KitchenDadsCooking.com