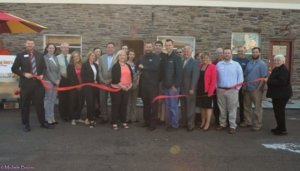 FOR IMMEDIATE RELEASE:
Quakertown, PA – June 5, 2018: Kulp Roofing and Construction, Inc.
Kulp Roofing and Construction, Inc., of Quakertown, Pennsylvania, has received the most prestigious contractor award GAF offers: The GAF President's Club Award. This highly coveted award recognizes Kulp Roofing and Construction as one of the "elite of the elite" residential roofing contractors in the United States.
GAF is North America's largest roofing manufacturer, and only GAF Master Elite(R) Contractors can compete for its residential President's Club Award. To qualify for this award, a residential roofing contractor must meet specific criteria in at least one out of three different pathways:
• Performance pathway – where contractors focus on giving their property owners the best possible service, quality, and protection
• Reliability pathway – where the contractor has a long history of offering their customers the best quality and protection
• Service pathway – where contractors consistently offer their customers the best protection available in the marketplace.
Kulp Roofing and Construction has been a GAF Master Elite(R) Contractor since 2014. To become a Master Elite(R) Contractor–a status that less than 2% of roofing contractors nationwide are able to achieve–a candidate must demonstrate proper licensing (in states that require it), maintain insurance, have a proven reputation, and show commitment to ongoing professional training.
"We value our certified contractors for raising the industry standard year after year by installing the best roofing products and systems. Our President's Club award recognizes only those contractors who have distinguished themselves by the highest standards of excellence, customer satisfaction, and dependability," says Jim Slauson, GAF's VP of Certified Program & Services.
A full-service roofing company located in downtown Quakertown, Kulp Roofing and Construction is committed to excellence in serving its loyal customers. "The company was started in 2004," explains president Phil Kulp, "because I wanted to control the quality and have good customer relationships." Originally formed as a sole proprietorship, the company expanded in 2010 to include many types of construction and remodeling services, including additions, garages, pole barns, roofing, siding, windows, and decks. "We added 'Construction' to the company name," continues Kulp, "to drive an increase in window and siding sales."
The company provides affordable selections of shingles and roofing services ranging from small repairs to complete new installations. Roofing services include installations of both steep- and low-slope roofs, metal roofing options, inspections, and repairs (including damage from wind and hail) to roofs, chimneys, and sewer pipes. Kulp Roofing and Construction offers monthly payments and same-as-cash options.
The company is involved in the communities and churches in its market area. Kulp Roofing and Construction participates in the Quakertown Police Department's "Shop with a Cop" program and the Quakertown Alive! main street program; it also supports Lily's Hope Foundation and many local churches. An Angie's List 2017 Preferred Contractor, the company is accredited by the Better Business Bureau with an A+ rating.
Going forward, the company looks forward to continued growth and success. "We want to be voted 'Best-of' in every opportunity that's available!" concludes Kulp. "We want people to be able to put on a roof with worrying about constant costly repairs. Our online reviews are a product of our mission statement; we are concerned only about our clients' warranties and their five-star satisfaction. Our reputation sets us apart."
About Kulp Roofing and Construction, Inc.
Since 2004, Kulp Roofing and Construction has been providing roofing, siding, and window services in Lehigh, Bucks, Berks, Montgomery and Northampton Counties. Desiring to be the best it can be, the company takes its job seriously, ensuring that all staff and installers are up to date on the latest roofing training. Kulp Roofing and Construction always uses care and cleanliness to leave customers' homes looking fantastic, fresh, and new.
Kulp Roofing and Construction
216 D Apple Street
Quakertown, PA 18951
(215) 538-0618

Facebook: http://www.facebook.com/QuakertownRoofer
About GAF:
Founded in 1886, GAF is the leading roofing and waterproofing manufacturer in North America. As a member of the Standard Industries family of companies, GAF is part of the largest roofing and waterproofing business in the world. The company's products include a comprehensive portfolio of roofing and waterproofing solutions for residential and commercial properties as well as for civil engineering applications. The full GAF portfolio of solutions is supported by an extensive national network of factory-certified contractors. GAF continues to be the leader in quality and offers comprehensive warranty protection on its products and systems. The company's success is driven by a commitment to empowering its people to deliver advanced quality and purposeful innovation. For more information about GAF, visit http://www.gaf.com