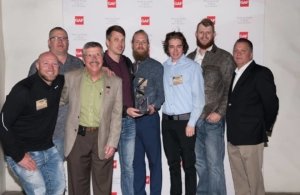 FOR IMMEDIATE RELEASE:
North Salt Lake, UT – May 31, 2018: Lifetime Roofing
Lifetime Roofing of North Salt Lake, Utah, has received the most prestigious contractor award GAF offers: The GAF President's Club Award. This highly coveted award recognizes Lifetime Roofing as one of the "elite of the elite" residential roofing contractors in the United States.
GAF is North America's largest roofing manufacturer, and only GAF Master Elite(R) Contractors can compete for its residential President's Club Award. To qualify for this award, a residential roofing contractor must meet specific criteria in at least one out of three different pathways:
• Performance pathway – where contractors focus on giving their property owners the best possible service, quality, and protection
• Reliability pathway – where the contractor has a long history of offering their customers the best quality and protection
• Service pathway – where contractors consistently offer their customers the best protection available in the marketplace.
To become a Master Elite(R) Contractor–a status that less than 2% of roofing contractors nationwide are able to achieve–a candidate must demonstrate proper licensing, maintain insurance (in states that require it), have a proven reputation, and show commitment to ongoing professional training.
"We value our certified contractors for raising the industry standard year after year by installing the best roofing products and systems. Our President's Club award recognizes only those contractors who have distinguished themselves by the highest standards of excellence, customer satisfaction, and dependability," says Jim Slauson, GAF's VP of Certified Program & Services.
A premier roofing company in Salt Lake City, Lifetime Roofing provides a complete range of services, ranging from new construction to re-roofing. The company's roofers have the skill and local knowledge to service both residential and commercial structures, addressing even the most troublesome roofing concerns. "We consider ourselves problem solvers," explains marketing director Parker Mickelson. "We keep the customer happy throughout the roofing process. Most jobs go seamlessly–but if something comes up, we rectify the situation and keep the customers smiling."
The company provide a variety of services to homeowners and commercial businesses, including re-roofing, new installations, snow removal, leak repair, ice and snow barriers, wind damage, and gutter installation. Many new clients are referrals from previous satisfied customers. "Families and friends often recommend us," continues Mickelson. "Customers also search online and stumble upon our positive reviews. We've built a company that gets the job done right and ensures that customers are completely satisfied. Lifetime Roofing also has some of the best salespeople available, and they love meeting customers to go over their roofing options."
Each year, the company gives away a free roof to homeowners who wouldn't be able to afford one. "In 2017," says Mickelson, "we gave a roof to a family in Tooele that really needed it. They were so friendly and had a barbecue to feed our crew!" A winner of GAF's Triple Excellence Award (for consumer protection, installation, and training) and a GAF Certified Green Roofer(TM), Lifetime Roofing also works with Habitat for Humanity. The company also offers eco-friendly roofing products and has a commitment to recycle old roofing shingles.
By the end of 2018, the company hopes to double in size. As Mickelson explains: "By 'double,' I mean both the number of roofs installed and the number of employees. Lifetime Roofing is outgrowing its old office; we hope to open a couple of new locations." He concludes: "We're really excited about everything that's coming in the future. But one thing that won't change is our dedication to customer satisfaction–that's our way of saying thanks!"
About Lifetime Roofing
Founded in 2008, Lifetime Roofing has grown into one of Utah's most reliable roofing companies. Family-owned-and-operated, it provides clients with excellent customer service and outstanding finished products. With hundreds of positive reviews, Lifetime Roofing can complete any roofing job, small or large, and offers complete customer satisfaction for all roofing projects.
Lifetime Roofing
890 W. Center St. #5
North Salt Lake, UT 84054
(801) 928-8881

Facebook: https://www.facebook.com/LifetimeRoofingUtah/
Twitter: https://twitter.com/LifetimeRoofer
LinkedIn: https://www.linkedin.com/company/lifetime-roofing-utah/
YouTube video: https://www.youtube.com/watch?v=LA6qNLdjSG4
About GAF:
Founded in 1886, GAF is the leading roofing and waterproofing manufacturer in North America. As a member of the Standard Industries family of companies, GAF is part of the largest roofing and waterproofing business in the world. The company's products include a comprehensive portfolio of roofing and waterproofing solutions for residential and commercial properties as well as for civil engineering applications. The full GAF portfolio of solutions is supported by an extensive national network of factory-certified contractors. GAF continues to be the leader in quality and offers comprehensive warranty protection on its products and systems. The company's success is driven by a commitment to empowering its people to deliver advanced quality and purposeful innovation. For more information about GAF, visit http://www.gaf.com