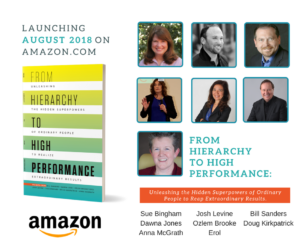 Employee disengagement, increasing costs of stress-related illness, and risk of failure to adapt to the speed of digital transformation signal that workplace cultures are not great. At the top of executives' mind is resistance to change and risks associated with failing to escalate critical issues. A network of people passionate about designing better workplaces have collaborated on a book called "From Hierarchy to High Performance: Unleashing the Hidden Superpowers of Ordinary People to Realize Extraordinary Results". The book is set to be released in mid-August 2018.
Each of the contributors share a common goal: to inspire the transformation of workplaces to be more human and less process-driven. They believe that creative responses to uncertainty and market volatility can power inventive and ethical business sustainability.
The authors were recently interviewed and featured on Business Innovators Magazine about their contribution to their new book. Business Innovators Magazine is a high authority online magazine featuring interviews with many celebrities and high-profile business leaders including the likes of Jeff Bezos, Dave Ramsey, and Barbara Corcoran.
Great Work Cultures is an initiative inspired by Joan Blades, a prominent activist of positive change for women and workplace health. The seven authors, leaders in their respective circles, share diverse ideas to strengthen understanding of what makes workplaces great. The purpose of the book is to understand what is necessary to transform work environments and how to bring more satisfaction to people in the workplace in order to make them more productive. "If you have doubts about the need for improving work cultures, take a look at the data showing how disengaged the average worker is, most workplace productivity is a fraction of what it could be. The happy news is this: workplace environments that are deeply respectful of all workers are also wonderfully productive. And, not surprisingly, they experience very low turnover."
The first chapter, "The Momentum of Change," is written by Bill Sanders. He uses a holistic perspective, that has served him well in his business, to talk about the benefits of being receptive to change.
The second chapter, "How Companies are Creating Costs by Ignoring Workplace Health," is written by Dawna Jones. Jones understands complex dynamic relationships, namely that of a company, its people, customers, social, ecological and economic health. She talks about the negative impacts of traditional mindsets on well-being and how that affects a company's capacity to respond effectively.
Chapter 3, From Profit to Purpose: How Purpose-Driven Leadership Drives Companies to Thrive (and Still Make Money) is written by Ozlem Brooke Erol, Founder of Purposeful Business. She reminds us of a basic yearning in all of us as humans, purpose to be a driving force in all type of organizations as a disruptor. She gives us examples of amazing companies that made more profit by standing up for what is right.
Chapter 4, "The Trouble with Scale: How to Keep Company Culture from Going Wrong in Times of Growth," is written by Josh Levine. He talks about the challenges business owners face when business expands and how to manage the evolution of their culture by building and preserving relationships.
Chapter 5, "Creating a Culture of Trust in the Workplace," is written by Sue Bingham. Sue talks about the value of trust in the workplace. An employer who prioritizes trust and values their staff's feedback can expect loyalty and a better work ethic.
In Chapter 6, "The Age of the Self-Managed Organization," Doug Kirkpatrick gives us a peek into the future by talking about how changing technologies can liberate employees to be more accountable and responsible for their actions.
The seventh and final chapter is called "Beyond Emotional Intelligence to Whole Body Wisdom" where writer, Anna McGrath, shares the importance of each individual choosing healthy responsibility to create an enlivening workplace culture. Awareness, authenticity, care and directness build environments that support connection and collaboration.
Successful companies have many things in common and any aspiring entrepreneur should understand the importance of creating a positive and receptive work environment, which is what this book is about.
For more information on the authors, their book, and their movement, visit www.hierarchytohighperformance.com.