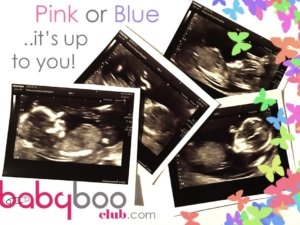 Predicting the sex of your baby before your gender scan has always been rather more of an art than a science until now, it is claimed. There is an underground craze sweeping the internet called The Nub Theory. In recent years it's been more widely accepted as fact and is now used in sonography departments globally to predict a baby's gender. It boasts great accuracy and at a much earlier time than previously thought possible. Where a traditional medical scan cannot determine the sex of a baby until 16 weeks, The Nub Theory claims to be over 95% accurate at just 13 weeks.
Experts look at the nub – an affectionate name for genital tubercle – and determine the 'angle of the dangle'! The genital tubercle is the collection of dense tissue that will eventually become your baby's genitalia. In simplified terms, if the angle is greater then 30 degrees it's a boy, less than 30 degrees and it's a girl.
The growing worldwide phenomenon that is The Nub Theory prompted 2 experts, Beth Hemmings and Natalie Etchells to launch a brand new website called Babybooclub.com. Their aim is to help expectant mothers from anywhere in the world understand Nub Theory and enable them to find the sex of their baby simply by uploading a picture of their dating scan. It can then be examined by the experts and a prediction of gender made.