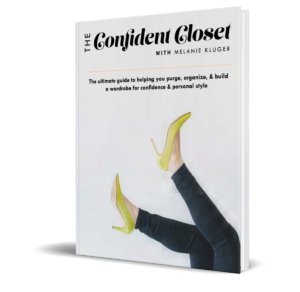 Personal Stylist Melanie Kluger's new release, "The Confident Closet: The ultimate guide to helping you purge, organize, & build a wardrobe for confidence & personal style," hit Amazon.com's best seller list on October 23, 2018, climbing all the way to Number One in the Fashion, Commercial Fashion, and Fashion & Art categories.
In this extensive workbook, Kluger lays the foundation for creating a spacious closet filled with clothing the reader loves. "The Confident Closet" inspires, pushes, and helps the reader take action leaving the overwhelm in the dust. There is an emphasis on self-love that is rare and exciting in a style book, making it stand out among the rest. Through journaling, checklists, thought-provoking questions, and beautifully designed charts, readers are given the tools to thoroughly and comprehensively make a change.
Kluger's approach is not only realistic and attainable, but she brings an aspect of joy that is quite refreshing. Instead of feeling intimidated, there is a feeling of empowerment. Readers will be ready to take on the world with a newfound clarity, self-assurance, and know-how that will last a lifetime.
In response to the book hitting Number One, Kluger stated, "I couldn't be happier that the book has resonated with so many people! It's been a joy to create and the fact that women all over the world have been loving it means everything to me."
Residing in the Bay Area with her husband and two kids, Kluger has worked with women for the past 15 years and truly has found her passion in women's closets. Filled with practical and thought-provoking information, "The Confident Closet" breaks down not only how to feel more confident in one's style, but how to trust the personal instincts to make the right decisions about a dream wardrobe. This refreshing workbook is unique in its ability to be body-positive while addressing deep-seated issues that come up as people realize why they are holding onto clothes that don't serve them.
"The Confident Closet: The ultimate guide to helping you purge, organize, & build a wardrobe for confidence & personal style" is now available in Kindle and Paperback editions on Amazon.com at https://www.amazon.com/dp/0464860784
To learn more about Melanie Kluger visit https://www.theconfidentcloset.com