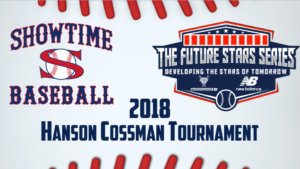 PROGRAM 15 is proud to announce The Hanson Cossman tournament has been added as one of the partner events for the New Balance Future Stars Series. PROGRAM 15 and Future Stars Series staff will attend and scout the Hanson Cossman tournament to write MLB scouting reports and select players for International Week, regional teams, and invite-only combines in the fall.
Led by PROGRAM 15's National Staff of former Major League and professional players, scouts, and coaches, Future Stars Series Regional Training and Evaluation Combines have garnered a reputation as one of the most comprehensive amateur baseball player identification and development experiences available.
The Hanson Cossman Tournament began in 2013 to honor Grant Hanson, a Showtime founder and long-time respected coach, who lost his battle with Cancer, and Mat Cossman, a five-tool player, loyal, dedicated program kid who lost his life to a medical overdose shortly after pursuing his college career. Proceeds from this tournament go directly to families or organizations in our community that need assistance.