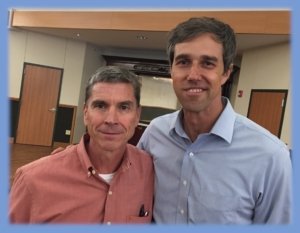 As the 2018 congressional race for Texas District 17 shifts into high gear, a new
poll, released from the campaign of Democratic challenger Rick Kennedy shows the race tighter than any previous election since 2010.
A poll, run by San Francisco-based Change Research and published on Candidate Kennedy's website, revealed that nearly 1 in 4 voters did not know the incumbent, Congressman Bill Flores, who has been in Congress for eight years.
"These numbers validate what I've been hearing on the campaign trail," said Kennedy.
"Residents of the 17th tell me that they want somebody who listens to them and represents their interests in Washington–not just the interests of PACs and corporations. In spite of continuous protests from his constituents, we haven't had a single in-person town hall meeting with him in years. Constituents should be the people you come home to listen to, not hide from," he said.
Additionally, the poll showed a 14% gap between a head-to-head contest between Kennedy and Flores. Previous Flores elections have been separated by nothing less than 25 points. The midterm elections in 2010 and 2014 were won by 25 and 32 points respectively. In past Presidential elections, Flores won by 59 points in 2012, but in 2016 his lead shrank to 25 points.