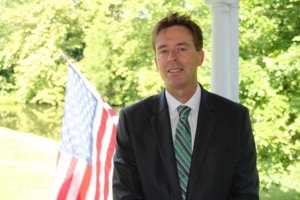 FOR IMMEDIATE RELEASE:
Newburgh, NY – June 12, 2018: Roberts Contracting, Inc.
Roberts Contracting, Inc., of Newburgh, New York, has received the most prestigious contractor award GAF offers: The GAF President's Club Award. This highly coveted award recognizes Roberts Contracting as one of the "elite of the elite" residential roofing contractors in the United States.
GAF is North America's largest roofing manufacturer, and only GAF Master Elite(R) Contractors can compete for its residential President's Club Award. To qualify for this award, a residential roofing contractor must meet specific criteria in at least one out of three different pathways:
• Performance pathway – where contractors focus on giving their property owners the best possible service, quality, and protection
• Reliability pathway – where the contractor has a long history of offering their customers the best quality and protection
• Service pathway – where contractors consistently offer their customers the best protection available in the marketplace.
Roberts Contracting has been a GAF Master Elite(R) Contractor since 1998. To become a Master Elite(R) Contractor–a status that less than 2% of roofing contractors nationwide are able to achieve–a candidate must demonstrate proper licensing (in states that require it), maintain insurance, have a proven reputation, and show commitment to ongoing professional training.
"We value our certified contractors for raising the industry standard year after year by installing the best roofing products and systems. Our President's Club award recognizes only those contractors who have distinguished themselves by the highest standards of excellence, customer satisfaction, and dependability," says Jim Slauson, GAF's VP of Certified Program & Services.
In business since 1986, Roberts Contracting is a family-owned business with decades of experience in servicing the home-improvement needs of customers in New York's Hudson Valley region. "Our employees stress customer service," says founder and president, Kevin Roberts. "From the moment a customer first calls our office, we strive to make him or her a lifetime customer. More than 50 percent of our business is repeat customers or referrals."
The company's roofing crews are trained each year to reflect changes in the industry. Roberts Contracting's residential services include roofing, windows, doors, siding, gutters, and decks. The company also works with commercial roofing customers, offering replacements for flat, shingle, and metal roofs, as well as repairs and service for condo and multi-family structures.
The belief in giving back to the community is strong at Roberts Contracting. The company has donated roofs and siding to projects for the police department and the pavilion at Thomas Felten Park in Plattekill, United Memorial Methodist Church in Modena, and a cancer patient in Clintondale. Roberts Contracting also raises and donates money for charitable endeavors, including Rockland Family Shelter's programs for abused women and children, drunken-driving prevention and seat-belt awareness, cancer prevention, Boy Scouts, local churches and fire departments, and other organizations. Additionally, president Kevin Roberts has served as an Ulster County legislator and has been a candidate for the New York State Assembly.
The company has won many awards–an achievement made possible by dedicated employees and loyal customers, according to Roberts. "We offer the best products and best warranty at the best price," he concludes, "which helps to make us the Hudson Valley's number one roofer for another solid year. The customers in our area know that their roofs are in good hands with Roberts Contracting."
About Roberts Contracting, Inc.
For more than 30 years, Roberts Contracting has been serving homeowners in Newburgh, New Windsor, New Paltz, Wappingers Falls, and other Hudson Valley cities, towns, and villages. With more than 5,000 customers served, the company continues to expand its network through long-lasting customer relationships, positive feedback, and referrals.
Roberts Contracting
1430 Route 300
Newburgh, NY 12550
(845) 566-7663
http://www.robertscontractinginc.com
Facebook: https://www.facebook.com/robertscontractinginc566/
YouTube video: https://www.youtube.com/watch?v=kLtfCpApWtg
About GAF:
Founded in 1886, GAF is the leading roofing and waterproofing manufacturer in North America. As a member of the Standard Industries family of companies, GAF is part of the largest roofing and waterproofing business in the world. The company's products include a comprehensive portfolio of roofing and waterproofing solutions for residential and commercial properties as well as for civil engineering applications. The full GAF portfolio of solutions is supported by an extensive national network of factory-certified contractors. GAF continues to be the leader in quality and offers comprehensive warranty protection on its products and systems. The company's success is driven by a commitment to empowering its people to deliver advanced quality and purposeful innovation. For more information about GAF, visit http://www.gaf.com