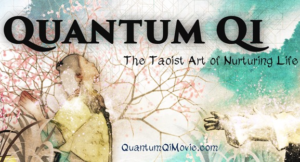 Sacred Mysteries is excited to announce the crowdfunding launch of Quantum Qi- the Taoist Art of Nurturing Life, a breathtaking 10-part documentary series that will educate and inspire viewers through science, philosophy, beauty, and ancient healing arts from International Masters, researchers, and practitioners of QiGong, Tai Chi, Martial Arts and Traditional Chinese Medicine. The official launch date for the Quantum Qi Crowdfunder is October 2, 2019 and it will run until December 2, 2019.
https://igg.me/at/QuantumQi
Sharron Rose, Producer/Director of the Quantum Qi Series and President of Sacred Mysteries Productions, believes that with the increasing stress, anxiety and dis-ease so many are experiencing in today's society many people are feeling the need to discover a path to healing, wellness and vitality. As the cost of medical care skyrockets, many health professionals are looking towards the world of preventative medicine. Increasingly, scientific studies reveal that the healing and self-empowerment techniques to be presented in Quantum Qi, used in conjunction with modern medicine helps to aid in the treatment of cancer, immune system disorders, and other chronic and life-threatening conditions.
About the Groundbreaking Quantum Qi Documentary Series
Wishing you had more energy, strength and ability to heal? The Quantum Qi series is designed to play a valuable role in the world of health and wellness by bringing the power of Qigong, Tai Chi, Martial Arts, Acupuncture and Taoist Philosophy to audiences throughout the world.
Each episode will include insights into the science, philosophy and practices of these healing arts spoken first hand by world renowned Masters, teachers and scholars. Interviews with quantum physicists and medical professionals will support and expand upon these insights while demonstrating their relevance to our contemporary lifestyle.
At the end of each episode, experiential techniques for accessing and utilizing the incredible power of Qi taught by the Qi Masters will be presented, plus advice on how to bring the power of these teachings to our daily lives.
Quantum Qi is unique in its use of cutting-edge technology. Through the use of visionary animations and aerial drone footage Quantum Qi will reveal the hidden aspects of our reality such as Qi, bioelectricity, the quantum field, and the subtle bodies beyond the physical. The intention through these animations is to assist audiences in visualizing how life force energy constantly flows through, around and between us, and the impact of positive and negative thoughts and emotions on our overall health and wellbeing.
The Interviewees for Quantum Qi include world famous QiGong Masters such as:
Master Mantak Chia, Lorelei Chang, Grandmaster Dr. Effie Chow, Master Ken Cohen, MuDeng Shi-Fu, Bill Douglas, Dr. Kim Engard, Francesco Garripoli, Master Mingtong Gu, Paul Hannah, M.D., Lee Holden, Dr. Roger Jahnke, Lonny Jarrett, Master Jianye Jiang, Li Jing, Sifu Ama Lia Wai Ching, Bruce Lee, Daisy Lee, Master Li Junfeng, William Martino, Sifu Matthew, John P. Milton, Master Robert Peng, Red Sarber, Pedram Shojai, Karin Sorvik, Jampa Stewart, Solala Towler, Grandmaster Wang Rengang, and Kiara Windrider.
"I predict that Quantum Qi will be one of the most important world changing communications series in the 21st Century reaching and transforming the lives of countless millions across the globe. I sincerely hope you will be able to tell future generations that you participated in funding this astonishingly beautiful, healing, powerful and deeply practical programming." ~ James O'Dea former President of the Institute of Noetic Sciences, Washington office director of Amnesty International, award winning author and peacemaker.