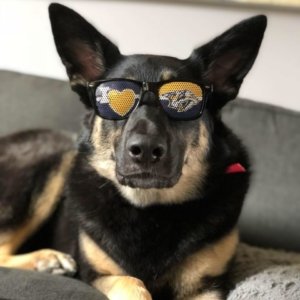 There are fans and then there are "Hockey Fans" and then there are "Smashville Hockey" Fans. So, when Ryan Kesler took to Twitter after dropping gloves with Ryan Johansen in the March Hockey Meeting between the Ducks and the Predators, you can be assured the "Smashville" Fans had something to say about that, specifically one talking Dog by the name of Landry Agnes Davis, a German Shepard from Nashville, TN.
Landry Agnes loves her team and offers witty commentary before and after each Nashville Predators game. Additionally, the German Shepard is a fan favorite and offered many memes and skits that have kept fans itching during the Off Season. On the Kesler / Johansen Tweet, Landry Agnes's created a parody of the Francis Ford Coppola movie, the Godfather where she immerses herself as the Godshepard. Here is her recent video…
Landry Agnes Davis is curious if Ryan Kesler will watch her Godshepard video on her Twitter, account, @landryagnesgsd, but be assured several passionate hockey fans have viewed and shared her Godshepard Parody.