Viveik is the Managing Director & CEO of BitSimple Investments, a blockchain & cryptocurrency focused investment fund.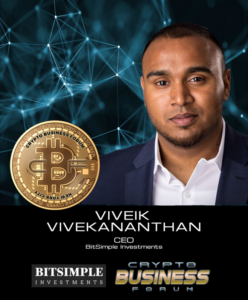 He leads the Silicon Valley Blockchain Consortium, is an early stage tech investor and a member of the Bitcoin Foundation.   As an advisor for multiple blockchain projects operating at the intersection of business and technology, Viveik brings together investors, researchers and organizations to discuss future trends of the blockchain and cryptocurrency ecosystem. 
Over a dozen leaders and industry insiders in cryptocurrency will gather in New York on Monday, March 26, 2018, for the Crypto Business Forum New York. Roundtable discussions will uncover what lies ahead for the future of blockchain. Designed to collaborate and learn from visionaries and insiders to share best practices and governance.
The rise of 'the ICO' in 2017 has been astonishing to watch. ICOs have followed the innovator's dilemma disruption path in much faster timeframes than technology has. The VC and Angel investor market, which maintains a chokehold on development projects, has now been uprooted by a decentralized, democratic model of global crowdfunding, that in some cases, is producing returns in the 1,000% range.
With the diversity of each leader's background, including Key Sponsors Uulala, a blockchain company to empower the unbanked, and U.S. Olympic Medalist Apolo Ohno's organization HybridBlock , the group will collectively merge their knowledge. Industries in attendance include social impact, marketing and media, finance, data security, blockchain development, agriculture, cryptocurrency trading, personal development, fitness, cannabis, and sports financing. Each has navigated the ever-changing business landscape in the lightning speed crypto market and looks to further the impact blockchain technology can have on their respective industries.
Ohno, a founder of the new cryptocurrency exchange HybridBlock, will take an active role in examining the ecosystem for global exchange. Another notable Key Sponsor Oscar Garcia of the financial technology company Uulala has a focused social impact outlook to share what it looks like to bring millions of unbanked users into the formal economy.
Not only will the event bring introspective from emerging platforms, but it will also focus on disruption to legacy industries. Keith Agoada CEO of Producers Market empowers producers; those who grow, process and add value to the agriculture system worldwide. Marko Filej CEO of SportyCo, a decentralized blockchain-based sports investments, and funding ecosystem is changing the high entry barrier for athletes and small investors. Serafin Lion Engel CEO of DataWallet , a data marketplace that directly connects firms looking to buy data with internet user looking to sell their own data get paid for it in return
Richard Tan, Chairman of SuccessLife a global leader in personal development for over 25 years is creating a personal development marketplace. Mike Bullen CEO of DrgnFly, a cannabis blockchain to deliver premium cannabis direct to consumer without touching a plant. Matt McGraw CEO of Dispatch Labs, who is creating a business ready blockchain which securely stores data off chain while managing that data through extensible smart contracts. Tristan Chaudhry CEO of FryEgg , a decentralized platform for fitness coaches to securely connect with clients around the globe.
Daniel Sloan, Co-Founder of BlockchainSaw, a blockchain development and token sale consulting firm, brings industry expertise and best practices to the group. Karen Orell of Karen Orell Consulting is providing management consulting on governance best practices which are key to crypto companies post fundraising. Viveik Vivekananthan CEO of BitSimple Investments, a blockchain & cryptocurrency focused investment fund. He leads the Silicon Valley Blockchain Consortium, is an early-stage tech investor. Sean Kirtz CEO of ICO Services Inc, an ICO consulting and marketing firm.
Danny Khursigara author of 8 Keys To Help Millennials Thrive, came in from Hong Kong for the event. World-renowned blockchain attorney, Joshua Ashley Klayman Kuzar, is providing key insights to the global legal landscape around cryptocurrencies.
Blockchain and cryptocurrency continue to drive change across the global business landscape and the transfer of knowledge in the Crypto Business Forum maybe looked at as a pivotal event for the industry which is still in early stages. The forum is founded by Matthew Loughran, Founder of Midtown West Media and CMO of Uulala and T. Allen Hanes, publisher and CEO of Authority Syndicate Group.