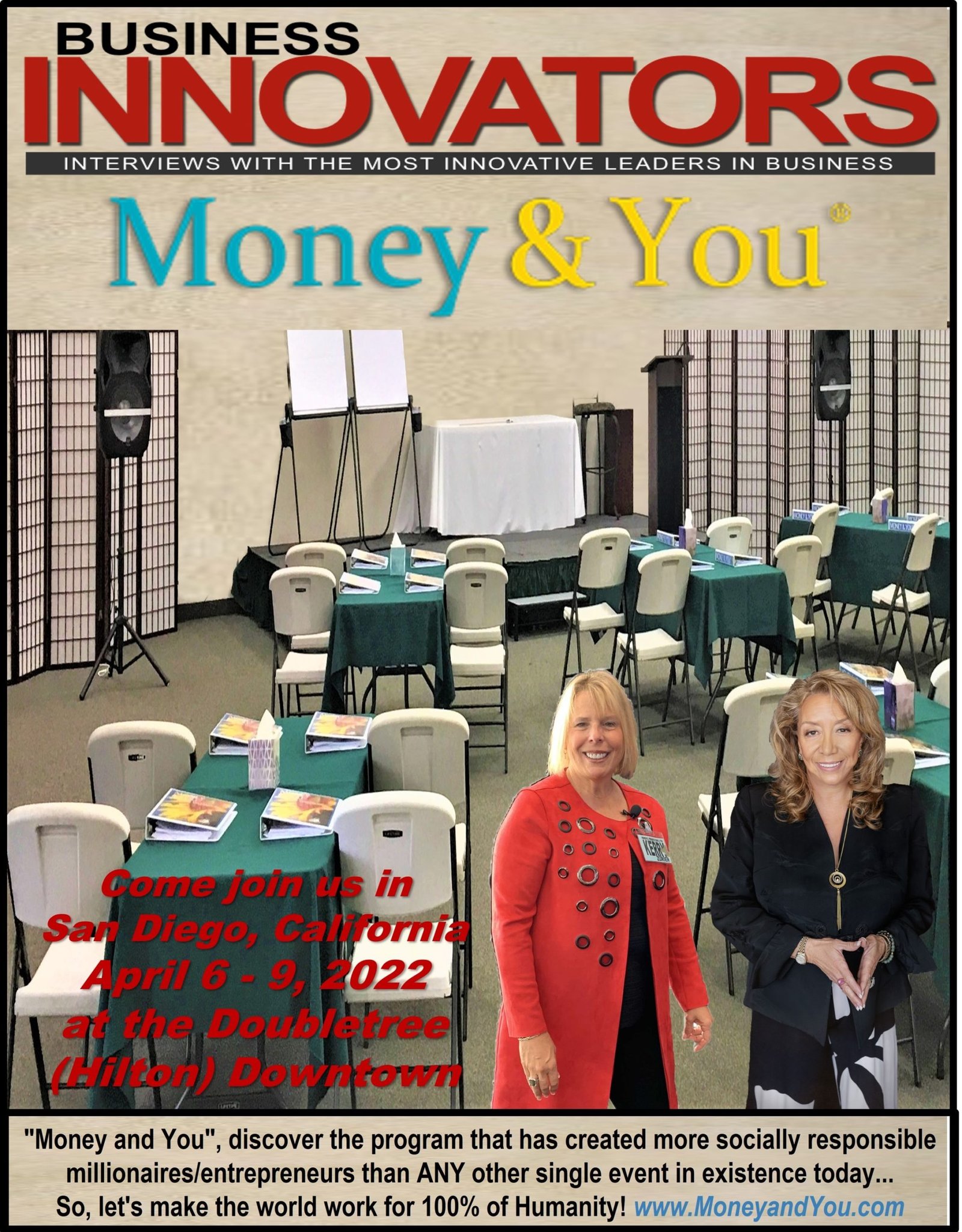 "Money & You," discover the program that has created more socially responsible millionaires/entrepreneurs than ANY other single event in existence today… So, let's make the world work for 100% of Humanity!
In this article for Business Innovators Magazine, Dame Doria (DC) Cordova shares the 10 reasons why people would want to attend the Money & You Program in San Diego on April 6-9, 2022. They are celebrating 43 years of the most sought-after Breakthrough Experience on the planet. 
Meet Dame Doria:
Dame Doria (DC) Cordova, Ph.D. (Hon), CEO, Global Business Developer, Sustainability Entrepreneur, Ambassador of New Education, Mentor of Nurturing. She owns Excellerated Business School for Entrepreneurs, Money & You, and other Excellerated programs, a global platform with over 200,000 graduates since 1979 from over 85 countries – especially from the Americas and the Asia Pacific region. The programs are taught both Live and Online in English, Chinese, Japanese, Tamil – soon expanding to Spanish, Bahasa, Tamil, and other languages.
Here is what Dame Doria Cordova says about the Money & You Program and Experience, celebrating 43 Years and still going strong.
"If you're ready for a Breakthrough… You require a Breakthrough Experience! Follow in the footsteps of today's Wealth and Business Experts who are Graduates of this Groundbreaking Program based on the teachings of R. Buckminster Fuller… and other Masters who have changed the world!"
The list of Notable Graduates of  Money & You program reads like a "Who is Who" of today's wealth experts, including:
Ben Cohen (Ben & Jerry's Ice Cream)
Paul & Angus Mitchell (hair products)
Jac Holzman (Creator of Panavision)
Tony Robbins (author/celebrity coach)
Robert & Kim Kiyosaki (Rich Dad Series)
Sharon Lechter (Rich Dad Series +Think & Grow Rich for Women)
Jack Canfield & Mark Victor Hansen (Chicken Soup for the Soul),
Bob Goldberg (Follow Your Heart)
And many more!
Dame Doria explains, "Money & You is about experiencing and integrating proven business tools! Dame Doria has ensured that the teachings of R. Buckminster "Bucky" Fuller are known by as many worldwide as possible. As a result, the wealth mindset, and entrepreneurial education she still curates and provides, are now acclaimed as more relevant today than ever before."
Here is what Dame Doria tells people that they can expect to receive at this event.
"Meet, Network, and Create Business Ventures Globally with like-minded, successful entrepreneurs who are creating a world that works for 100% of Humanity."
"Quickly change your relationship with money – how it impacts Your business and personal life."
"Experience an intensive transformational program that offers the proven Business Success Model that has helped millions to build fun, high-profit organizations that add value to others."
"Integrate Bucky Fuller's principles and the Science of Leverage for more time, prosperity, and joy."
"44 hours of entrepreneurial, experiential, transformational learning."
"Meet Grads from 85+ Countries."
"Lifetime Membership in their Global Entrepreneurial Network, Review for FREE any future Money & You globally FOREVER!"
Here are the 10 reasons why Dame Doria Cordova says people should attend:
1. "Once you attend, you become part of a GLOBAL NETWORK OF SUCCESSFUL Social Entrepreneurs / Professionals / Leaders / Trendsetters / Changemakers / Creators of Industries."
2. "The program has positively impacted the WEALTH WELLNESS of over 200,000 GRADUATES from over 85 countries since 1979."
3. "Millions have been positively impacted because many of today's WEALTH EXPERTS / TRANSFORMATIONAL LEADERS got their start in the program – or applied the Excellerated Learning Technology to their teachings – or GREW THEIR EMPIRES by using the tools, distinctions, and strategies learned in www.MoneyandYou.com."
4. "Every experiential game will engrain you the BUSINESS SUCCESS MODEL to support you in designing your business/life in alignment with your purpose and values and CREATE SYSTEMS for ONGOING REVENUES."
5." You can PROMOTE your business/products/services on our world-renowned NETWORK TABLE (whether attending for the first time or you are a returning graduate)
6. You will learn GENERALIZED PRINCIPLES that already influence and drive your life – AWARENESS is POWER."
7. "What you need to create WEALTH that is SUSTAINABLE."
8. "How to create a QUANTUM LEAP in your life – and how you can do it NOW."
9. "You will have THE TIME OF YOUR LIFE learning, integrating, accelerating PATTERNS OF SUCCESS that you can apply immediately to your business and personal life. You will make friends/associates for a lifetime that you will have a common language and experience with."
10. "It's 100% MONEY-BACK Guaranteed, so you have nothing to lose and much to gain."
For over 43 years, Dame Doria has promised people an experience of a lifetime, This 3 ½ days of fun/entertaining/experiential program will give people more tools, experiences, strategies, information, and contacts than they had ever expected. Applying these principles in their business (or foundation/non-profit) will often make them more money than their investment in the program.
And in conclusion Dame Doria asked people this thought-provoking question, "How much are you willing to invest for better business and personal relationships, peace of mind, and understanding others?"
Location & Dates:
San Diego, California April 6 – 9, 2022 at the Doubletree (Hilton) Downtown – 7 minutes from the International Airport.
To learn more, visit MoneyandYou.com or email info@MoneyandYou.com. Get Started Immediately – To receive a gift, Business Success Model book download. The "skeleton" of this work is this Model – based on the teachings of four masters!
Special Offer:
$2,245. ($ 2,995 normal tuition)
If 2 sign up together, only $ 3,990. ($ 1,995 each) – BTC/Ethereum Accepted
This program is 100% money-back satisfaction guaranteed!
When people register at www.MoneyandYou.com/myregistration, they will receive a Pre-Attendance pack with lots of information to make their experience with them more pleasurable.
Money & You accepts Bitcoin / Etherium / any Cryptocurrency listed in the main exchanges. Any questions, call or they also use WhatsApp to reach their office: +1 619 224 8880.