I sat down with Mai Vu, to discuss her groundbreaking work coaching women. While her focus is improving women's love lives, the result her clients get is an improved business and better life all around, or as Mai calls it HotLifeHotLove™.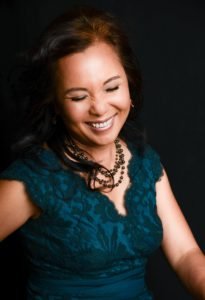 Mai's new bestseller, "The Divorced Mom's Guide to Dating – How to Be Loved, Adored & Cherished" outlines her unique approach to love, life and business.
BIM: Who do you work with Mai?
MAI: I work with entrepreneurial divorced moms who are dating again and raising children and building a business.
BIM: What kind of problems do these women face?
My women work so hard at everything.  They put themselves and love last, while they build a business or career, and raise children.
They are overly responsible trying to be and do everything for everyone.  Deep down inside they believe that they are not enough.  Last but not least they walk on eggshells trying to please everyone, yet no one is happy.
Contrary to what they want: Their way of being and doing hurts their success, blocks them from making more money, has their children and people around them walk all over them like a doormat, and they end up alone, depleted, and resentful.  
BIM: How does your work help your clients?
MAI: With 20 years' experience working with smart, independent, and self-reliant women around the world who struggle with having life the way they want, i see that they tend to put themselves last, put their kids and work first and then hoping that they will have lasting love forever.
It's quite a contradiction. What they need to realize is that their formula is not working no matter how hard they work at it.
Now, if they flip that priority: Let love in first, then tend to the children, and then their work… miraculously they will have the life and success that they want.
One side note: When I say "let love in" I don't necessary mean "a man".
BIM: What kinds of women benefit the most from working with you?
MAI: The women who resonate so well with me are the ones who are between 45 and 60 years old.  They already have succeeded at some level, have experienced failure several times, and are now actually stalled out in their life. They've gone as far as they could with their own hard work, intelligence, and competency. They're independent women making their own money, and yet, for some reason, they can't take that success to the next level. They are stuck in a job that they don't want. If they are single and dating, they are not satisfied with the men that they are meeting.  If they are married, their marriage is so stable, it is mistaken for dead. Those are the kind of women that resonate perfectly with me.
BIM: Can you give us an example of how a client has benefited with you?
MAI: Yes. My client, Anna, who is a powerful woman in her own right; she is divorced, with grown kids. She left the corporate world, and built her online business in Sweden. Her business is smart and was working for her. And she was dating again.  She even sold her house and was living the digital nomad lifestyle (that most of us dream of). While she was living this fun and powerful lifestyle, but she stalled out.  Her business was sufficient but not growing and dating was complicated and disappointing.
Three months after working with me, her dating experience completely changed.  She was now meeting and dating the kind of men that she finds interesting.  She felt so much more empowered and is no longer hurting herself when she dated. Men with money. Men with spirituality and emotional connection are coming out of the woodwork.  It was really amazing to watch the transformation in three months.
What's more important was the success that came for Anna; it opened up a whole new world. The best magazine in Sweden contacted her and featured her, without her lifting a finger to seek it out. Her business exploded and she got more clients coming in. From what she learned with me, she raised the bar in how she was working with clients so that they are buying her VIP programs, and are flying in from different parts of the world to spend a week or two with her on site, at exotic places like Bali and Spain.
I recently flew to Mexico to meet up with her because she was spending six months there.  How fun is that?
BIM: Beautiful. Anything else you'd like to add?
MAI: I want to add a component for the married woman. Even though my book is entitled "The Divorced Mom's Guide to Dating", most people think I'm only a dating coach. Actually, no. Half of my clients are married women who come because their marriage is on the brink of disaster.  They're running ragged and their marriage is dead and boring. It has stalled out and they're not connecting with their husband anymore. They're busy with the kids, the business, and everything else that they're just not happy.
Within three to six months after they work with me, their relationship with their husband completely changes as they shift their business and expand, and now they have more love and support from him, as well as more passion. The passion come back into the relationship. Every single one of my women end up saving their marriage even though they originally came in thinking: "I am so unhappy, Can I just divorce this guy right now?" Instead, they are now taking cute snapshots, and selfies as a loving couple, and posting them on Facebook, because now they're happy and playful with each other again.
BIM: To sum it up Mai, what is Mai Vu Coach about?
MAI: Mai Vu Coach is about bringing the hot life and hot love back to hardworking women who work so hard and wonder why they're not getting what they want and why their life is not hot.  When you have your hot business or career plus your hot love, that is your HotLifeHotLove™.