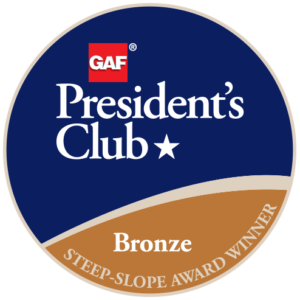 FOR IMMEDIATE RELEASE:
Washington, IL – December 31, 2018: JB&D Siding and Windows Co., Inc.
JB&D Siding and Windows Co., Inc., of Washington, IL, has received the most prestigious contractor award GAF offers: The GAF President's Club Award. This highly coveted award recognizes JB&D Siding and Windows Co. as one of the "elite of the elite" residential roofing contractors in the United States.
GAF is North America's largest roofing manufacturer, and only GAF Master Elite(R) Contractors can compete for its residential President's Club Award. To qualify for this award, a residential roofing contractor must meet specific criteria in at least one out of three different pathways:
Performance pathway – where contractors focus on giving their property owners the best possible service, quality, and protection
Reliability pathway – where the contractor has a long history of offering their customers the best quality and protection
Service pathway – where contractors consistently offer their customers the best protection available in the marketplace.
To become a Master Elite(R) Contractor–a status that less than 2% of roofing contractors nationwide are able to achieve–a candidate must demonstrate proper licensing (in states that require it), maintain insurance, have a proven reputation, and show commitment to ongoing professional training.
"We value our certified contractors for raising the industry standard year after year by installing the best roofing products and systems. Our President's Club award recognizes only those contractors who have distinguished themselves by the highest standards of excellence, customer satisfaction, and dependability," says Jim Slauson, GAF's VP of Certified Program& Services.
The folks at JB&D Siding and Windows Co. know that homeowners often consider a home-improvement project to be a scary undertaking. The company's employees ease those fears with their dedication to protecting and improving clients' homes. JB&D Siding and Windows Co. has solid employees who care about the job and the customers for whom they work. With a total focus on how to best serve customers' home-improvement needs through professional and timely communication, the company installs the best products by experienced craftsmen and delivers on its promises.
The company backs up its top-of-the-line products with the best warranties in the business. As part of the Prairie Home Alliance, JB&D Siding and Windows Co. offers a variety of services in addition to roofing, including siding, awnings, patio covers, decks, windows, doors, gutter helmets, shade protection, pergolas, and sunrooms. The company handles everythingfrom design and permits to installation and service. With a full-time service department and employee installers who receive proper training and skills to provide the highest quality work JB&D Siding and Windows Co. has a safety program that ensures all OSHA standards are met. The company is a winner of GAF's Triple Excellence Award (for consumer protection, installation, and training).
Fully insured, licensed, and certified, JB&D Siding and Windows Co. follows proper procedures with each project to safeguard its customers. Ensuring its commitment to provide superior products and service to customers who have placed their trust in the company, the staff works as a team to exceed customer expectations and provide an experience filled with prompt, courteous, and efficient communication. By maintaining diligence in its work, JB&D Siding and Windows Co. earns the highest compliment: the recommendation of a satisfied customer.
About JB&D Siding and Windows Co.
With more than 45,000 satisfied customers and 100,000 successful projects over the last four decades, JB&D Siding and Windows Co. has earned an exceptional reputation for delivering on its promises. Part of the Prairie Home Alliance, a group of home-improvement businesses under one roof, JB&D Siding and Windows Co. is a "one-stop shop" for homeowners in central Illinois.
JB&D Siding and Windows Co., Inc.
203 Eastgate Drive
Washington, IL 61571
(309) 699-9517
Website: http://www.peoriasiding.com
Facebook: http://facebook.com/peoria.siding
About GAF:
Founded in 1886, GAF, a Standard Industries company, is the leading roofing and waterproofing manufacturer in North America. The company's success is driven by a belief that nothing matters like a roof designed, manufactured and installed to protect what matters most. For more information about GAF, visit www.gaf.com