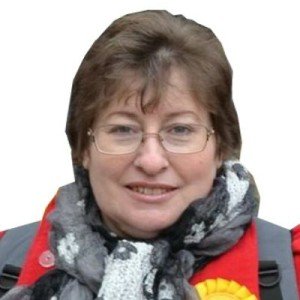 David:   May 2016 sees the election of a new Police and Crime Commissioner for the County of Cumbria UK and in this election Loraine Birchall is a candidate and I'm sitting here with her.   Loraine Welcome to Business Innovators Magazine.
Loraine: Thank you for the invite, I'm happy to be here.    
David:  Loraine what challenges do you see for Policing in your area?
Loraine:  Well, there are considerable changes in how Policing works, across the country and Government cuts are impacting on Police effectiveness in our communities.  This is exacerbated in my county for two particular reasons.
Firstly, funding in future is to be based on the static population of the county and Cumbria has the second smallest population in England.   This might not seem much of a problem until you realise that we have a population explosion annually when the static population increases by 16 million.  This increase is of course fuelled by the tourist season and that season is continuing to extend annually. The trouble is that Government does not make any allowances for this massive increase in people and the demands they put on policing and other services.
Secondly, while the static population number is one of the smallest in England the geographical area of Cumbria is significantly different to other areas due to it being mountainous and scattered with lakes.  We have the 4th largest force area in the UK and have to police more miles of road than any other Force area.    How will this be done when my Local Constabulary could lose a further £19 m from their budget by 2020?  
This brings many significant challenges in a world that is growing evermore dangerous.  
This Government seems to think there is a "One sizes fits all" solution to Policing and how it is funded.  It might look great on paper and in a spreadsheet, but that just does not work in practice.
All of this budget reduction is on top of previous Government cuts to Police Budgets and is having a serious impact on Policing. 
David:       How is it affecting policing?
Loraine:    Let me put it this way: The situation has now reached a stage where police officers cannot arrest offenders in rural areas due to the lack of vehicles to get them securely from the point of arrest to the nearest police office.   
Add to this the issues from gun crime which though small in comparison to the City areas, we still have issues.  We have not been able to effectively get to grips with firearms recording and policing and despite the 'lessons learned' following the Derrick Bird shootings in Cumbria, HM Inspector of Constabulary Michael Cunningham in his recent HMIC report stated;
"The firearms licensing arrangements in Cumbria are not sufficiently robust in some important respects, which means that public safety may be compromised and is a matter of concern."
This really needs to be addressed. 
I'm also concerned at the high levels of sickness absence in Cumbria Police.  In other organisations, it's usually symptomatic of low morale and a need for clear leadership.   Tackling this would save the force a massive amount each year which could be spent on solving crimes, supporting victims and paying for more officers 'on the beat' to improve visible policing.
David:        Does Cyber Crime have any impact on your area?
Loraine:    Cyber-crime and the real threat of terrorism to a rural county about to host the largest Nuclear site in Europe highlights the ever-changing world facing Cumbria Police.  But government takes none of this into account.  
What bothers those of us charged with keeping people safe is the growth of terrorism, organised and cyber-crime.  If we can't patrol our roads regularly and properly how can we be ready for a sudden serious incident?  
Then, as more remote areas come online the potential for pernicious online theft and fraud could escalate immensely.  Again, the funding takes no account of any of this. 
This survey will explain what I mean. 
In the recent South East Cyber Crime Survey of over 11,000 respondents, results show:
An overwhelming 83% of people believe that online crimes are of equal seriousness to physical crimes. 
84% of people who responded had experienced some form of attempted cyber crime in the last 12 months. 
89% were worried about someone using their personal information online without their permission. 
Nearly 30% of victims reported some form of financial impact.
Only 31% of people report cyber-crime to the authorities, such as the Police, Action Fraud & Trading Standards.
Given the serious nature of cyber-crime and online fraud, it should be a priority of the current Police & Crime Commissioner.    If elected, I would work with other forces in England (Lancashire, Cheshire, Merseyside etc) for a joint approach to cyber-crime and to share expert resources.
David:        Thank You Loraine:
Loraine:    You're welcome.
David:         Would you like to tell us something about yourself?
Loraine:    Yes of course.  
I'm an ICT/Management consultant, self-confessed geek and a contributing writer for Web Resource News.
Me and my business partner David have worked with many different types of businesses in most business sectors, running workshops on Marketing, Internet Marketing, Web Development, Creative problem solving and Creativity practices, Product Development and Networking for more than two decades.    
I was closely involved in designing and delivering business development programmes for the University of Salford and University of Central Lancashire as well as many other organisations.
I am a Board Member of South Lakes Housing, the largest housing association in the South Lakes region of Cumbria.   I'm chair of Barrow and Furness Liberal Democrats, a Parish Councillor and community activist campaigning for improved infrastructure including broadband, social housing and road networks for Cumbria.    I've acted as a consultant to Business Link, West Cumbria Development Agency, the Manufacturing Institute and project managed the UK arm of the EU FEED-IT project. 
I've worked in the defence industry for BAE Systems in the project management team and is also experienced in strategic and operational management.    I'm also a keen student of psychology, and a strong negotiator and trouble shooter.