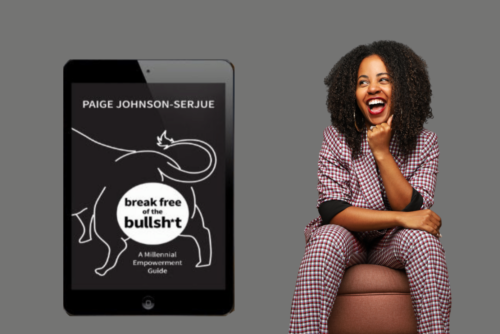 Author & Millennial Empowerment Speaker Paige Johnson-Serjue's recent release, break free of the bullsh*t: A Millennial Empowerment Guide hit Amazon.com's best seller list on March 23, 2021, climbing all the way to #4 in Business Mentoring & Coaching, and #6 in Success Self-Help Books, and Guides to Success categories.
A primary theme of the book is the concept of 'failing properly', which Johnson-Serjue learned while at Brock University, through her experience of struggling with classes and heading towards academic suspension. Instead of accepting defeat, she discovered many lessons through the experience, worked hard and ended up graduating with Honours.
Simone Smith of Toronto Caribbean.com says "She continues to help people out of dark places, assists in bringing new businesses to life, and coaches people to gain the confidence to get their dream jobs. She's a millennial that is doing her best to change the way the older generation views her cohort. Go ahead girl! You are doing a great job."
ABOUT THE BOOK
You've read a bunch of self help books, maybe reposted some quotes or tagged your friends in some motivational videos, and then what? Nothing.
This book will actually make a difference in your life, if you let it. This book is for the excuse making, self doubting procrastinator that has goals and wants to escape the life of mediocrity but needs help getting unstuck. You my friend, are destined for greatness and that journey begins today! Far from sugar coated, break free of the bullsh*t forces you to unlock who you're meant to be!
Confronting fears, overcoming traumas and bringing self reflection to a new level is only the tip of the iceberg! These chapters (called phases) will dive into topics like the power of social media, breaking the cycle and your own toxic behaviour which will leave you embracing your uncertainties and becoming more enlightened.
"I couldn't put it down!"
– Marissa L (Toronto, ON)

"I have never been so motivated by a book before! The workbook portion had me confronting what was holding me back and I have been dominating my goals since"
– Jake S (Brooklyn, NY)

"I'm not even a Millennial and was amazed on the impact this read had on me. Thank you for the much needed reality check"
– Tiarra K (Montreal, QC)
In response to the book hitting Top 10, Johnson-Serjue stated, "I am still in shock! I created a platform as a hobby to change the narrative surrounding Millennials and never would have imagined I would be a best selling author on the topic! This generation is groundbreaking, innovative and unique – if one reader can be reminded of that through reading my book then I did my job."
ABOUT THE AUTHOR
Paige Johnson-Serjue is a burger-loving, wine-indulging cool Mom that uses her 'gift of gab' aka motivational speaking platform, Paige1ofSome to empower the millennial generation both personally and professionally. She's unfiltered but compassionate and genuinely gives a sh*t about changing the narrative surrounding this generation.
Some of the organizations Johnson-Serjue has spoken to, about Millennial empowerment include Telus Health, Brock University, and Humber College. Break free of the bullsh*t book is available in bulk for events and sponsored promotions.
"Life changing and inspiring! I have never experienced someone speak amongst hundreds of people and feel like they were talking to me directly. I left feeling motivated and empowered"
"Paige says what we're all thinking but don't have the guts to say it out loud. She has this gift to give you a blunt reality check, be funny and educational all at the same time. She is what we all need!"
While the audiobook edition will be available soon, Johnson-Serjue has begun working on her next book, a Millennial Mom book tackling the realities of being a parent in this generation – the good, bad and ugly.
To learn more about, Paige Johnson-Serjue, follow her IG https://www.instagram.com/paige1ofsome/?hl=en
break free of the bullsh*t A Millennial Empowerment Guide is now available on Amazon.com at https://www.amazon.com/break-free-bullsh-Millennial-Empowerment/dp/1773160338 with book bundles from the author available at https://www.breakfreeofthebsbook.com/