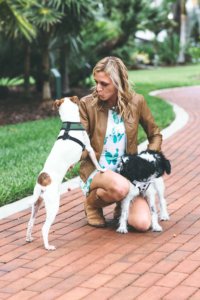 What to Expect During Mobile Pet Exams
Depending on the age, breed, and health of a pet, a typical vet may recommend wellness exams once or twice per year. When a mobile veterinarian St. Petersburg arrives, owners are typically asked to complete a health history form and a checklist of issues that you are concerned about.
After a consultation and addressing the questions, our house call vet will begin the exam by taking the pet's Weight and vital signs and looking closely at their eyes, ears, nose and coat condition. They will also listen to the animal's heart and lungs and then feel them pet all over to detect any abnormalities such as lumps and bumps. The exam continues with a closer investigation of the pet's health.
Diagnostic Samples and Blood Work
A St. Petersburg mobile veterinarian may take a blood sample to perform a blood cell count and/or a chemistry panel to determine if the pet has any infections, organ diseases or anemia. If the animal is over or underweight, they may recommend a thyroid panel, as well. Fecal samples may be used to check for internal parasites such as heartworms, hookworms, and other disease sourcing parasitic species. Of course, they will also identify the presence of external parasites such as fleas and ticks during the exam and can help you find appropriate preventives for most internal and external pests.
The vet may take a urine sample to determine the pet's kidneys function properly. They can also detect conditions such as the presence of blood, sediments, urinary tract infections and diabetes through urinalysis testing. Our veterinary house calls are designed for convenience, so our mobile vet has an onboard diagnostics lab, so you get quick results. On occasion, they may send samples to a reference lab for a more intensive study if They detect a serious issue during mobile pet exams St. Petersburg.
Veterinary House Calls for Pet Exams and Vaccinations
While they are giving the pet a routine wellness examination in the home, our mobile veterinarian can provide the pet with their annual vaccinations and booster shots. Vaccinations are an essential aspect of ensuring a long and healthy life for the pet.
Whether you need an in-home exam, vaccines or find the pet ill, contact Vet 2 Door at (727) 200-4669 to schedule an appointment with their mobile vet services. They currently are serving Largo, Seminole, and St. Petersburg, Clearwater and the surrounding Florida communities.
Location Info:
Vet 2 Door
260 1st Ave S Suite 200, St. Petersburg, FL 33701, St. Petersburg, FL 33701
(727) 200-4669