I'm here with Nick Segal co-founder and CEO of Partners Trust, a discerning and conscientious Los Angeles-based real estate brokerage that has grossed more than $7 Billion in sales since its inception in 2009. Nick is a nationally renowned real estate agent and noted speaker. He was recently named as one of Variety Magazine's Los Angeles Real Estate Elite.
In business, there are many strategies, rules, and philosophies along with numerous quotes that many try to live by.
"If a thing is worth doing, it's worth doing well."-unknown
"Stop chasing the money and start chasing the passion."- Tony Hsieh
"The most important persuasion tool you have in your entire arsenal is integrity."- Zig Ziglar
"A business that makes nothing but money is a poor kind of business"-Henry Ford
In the hustle and bustle of the business world, priories can quickly shift out of focus and end up on the "nice to have" list. The larger the company, the more difficult it seems to maintain.  Partners Trust, however, is a very different kind of business. Nick has built integrity and accountability into the very spirit of his company.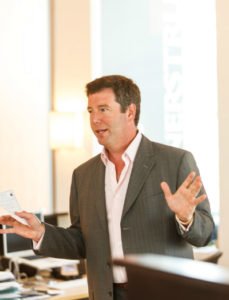 Q: Nick, you've been in the real estate industry for  quite a while now. Can you tell me about your life before real estate and what lead you to the industry?
A: I came back to Los Angeles after college to be an actor. I was doing a commercial for one of the Hostess Cakes products and the actor in the commercial with me was also in real estate. I was curious about what it entailed and soon thereafter, I got my Real Estate License and dove into the business head first. Connecting with people, finding out their needs and then delivering for them were facets of the business that were all very satisfying to me.
Q:  What would you say, has been a key element of your personal success?
A: I live by a philosophy that "little things, done in excellence, create a major impact". Demonstrating caring and building trust takes place through the quality of our actions, the timeliness of them and consistency. I made that commitment to myself that I would play at this level of demonstration and it serves me very well to this day.
Q: Every successful entrepreneur has encountered failure. Can you give me an example of a failure earlier in your life that became a life lesson leading you to success later in your career?
A: Uggggh! Just one???  I'd say the theme of all my learning in business and life revolve around one key question: Do I trust myself enough to sacrifice outcomes so that I stay in my own integrity with each and every action? I remember a time when I was more concerned about the outcome and I didn't stay true to what I knew was the complete "right" thing to do and it cost me dearly; both monetarily and in the mental/emotional anguish that I needed to endure through the entire messy event. From that moment forward, I realized no deal is worth the cost of my integrity and that lesson gets practiced on a daily basis.
Q:  What was the inspiration behind forming Partners Trust?
A: Our country was having its worst financial crisis of our lifetime and I, along with our founding partners, each respectively with major brokerages at the time, had the idea of uplifting the consciousness of the real estate brokerage model. We sought to create a new model where everyone takes a discerning and conscientious approach to all that they do. We also wanted to raise the bar for our agents, who we refer to as associate partners, to work in an empowering environment of collaboration, not competition and to equip them with the best marketing, research and continuing education to help them obtain their greatest wealth potential—both professionally and in life. To start a real estate company in 2009 was as far from a "safe" bet as possible. I am so grateful to the initial group that came together to form Partners Trust because they caught the vision and believed in me and us to make a reality. That demonstration took courage and faith and I am most proud to be associated with each and every one of them. 
Q: Can you tell me about the partnership aspect of Partners Trust and how it differs from most other agencies?
A:  key part of the business model in creating Partners Trust was the partnership component. We did a lot of research on the subject to figure out a way that we could offer meaningful stock to those that were willing to sign on with us during our infancy. The legal term of the stock vehicle we employed is called "phantom stock". It allows us to recognize our associates, based on tenure and company dollar contribution, by giving them dividends and a piece of the gain were we to sell the company. The vehicle also minimizes a taxable event and gives everyone involved a "pride of ownership" dynamic they can't get anywhere else in our market. The second component that distinguishes Partners Trust is our Trust Agreement that everyone signs in the company. With the commitment to raise the level of professionalism in the industry, we took it upon ourselves to define that "bar raising" measurement and created The Trust Agreement. This agreement defines our commitment to a higher level of accountability and service that we ask everyone in the company to adhere to and we've found that our clients truly appreciate this commitment.
Q: You mentioned a favorite quote of yours "little things done consistently in excellence create a major impact".  How is that philosophy reflected in the company?
A: To know me is to know that phrase and I reinforce the words constantly and ask all of our associates to define how they demonstrate the philosophy for themselves, individually. Partners Trust as a whole is only as strong as the actions of individuals in the trenches each and every day. One sloppy act can undermine so much good work and effort. At Partners Trust, I make it a priority to bang the drum of thoughtful acts and actions that reflect positively upon us all.  In a business model that is often defined by "eat what you kill" and "you only get paid when the deal closes", we make great effort to instill the philosophy that "good people create great results" and I am most proud of our track record to date.