Investing in real estate is always a gamble. Knowing how to play your cards right takes knowledge and skill. At three years shy of 30, entrepreneur and Real Estate Mogul Omar Spahi has the magic touch. Omar has achieved success most can only hope to touch in their lifetime. Omar manages his own real estate empire, which also includes his recent $5.4 million dollar purchase of three luxury residential condominiums in NYC's East Village along with adding 40 units at Santa Monica, CA's Ocean Tower to his portfolio.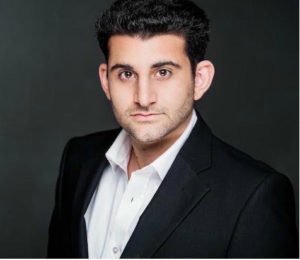 Q: Omar, can you tell me about your background before real estate, and how you got your start in the real estate field?
A: I started working in real estate from a very young age so I don't really have a professional background in other areas before then. I grew up around this industry due to my family's involvement and was taught the ins and outs of what makes someone successful in real estate. When I was just starting to actually begin a career in the business, I worked on basic tasks like counting inventory lists and just learning the general details from the ground up.
Q: What has been a key element of your success in the luxury real estate market?
A: Marketing! I can't preach enough how important it is to market your properties correctly and live your projects. There are so many important aspects to this, such as focusing on the details. It's one of the things that makes a property become a luxury property.
Q What trends have you seen in the luxury home market, particularly with what's happening right now in New York City?
A: In the years of working in real estate, I have never seen so many high priced places to live in New York City like there is today. The crazy thing about the price fluctuation too is that it's not stopping buyers from purchasing. People are just scooping these properties up left and right! I guess one can say that there truly are a lot of people out there in this world with a lot of money to spend.
Q: What would your ideal investment property look like? What do you look for?
A: Personally for me, it's about vision. If I can visualize what the property is going to look like with renovations, and if it has the right location, then I know it's going to be a smart investment.
Q: How do you do the proper due diligence? What steps do you take?
A: First thing I would do is look at the comps. Basically, this means that I would research similar properties to see what they sold for recently, and make sure to find out what the price per square foot it was at when it sold. Of course, you never want to overpay for a place if it's going to be an investment only purchase.
Q: What is your opinion on the strength on the U.S. real estate market as a whole for the next five years?
A: My honest opinion is that the market has always been on a cycle. There are moments where the market lulls and therefore it is always smart to plan and prepare ahead of time incase a recession happens. No matter what though, if you can hold on to your property for the long haul it will be sure to build equity, which will make you money. Real estate is the best investment. Period!
Q: If you were giving advice to a friend who was in the market for their first investment in a luxury property, what buying advice would you give them?
A: I would think of resale value and an exit plan from the get go. Your home is one of the most personal things, but for investments, you should always be thinking of what type of person is going to buy the property when it's ready to be put on the market. Will it be another investor like yourself or someone who actually wants to live in the place? Most importantly of all, BUY LOW and SELL HIGH!
Omar was recently featured on the June 9th episode of Bravo's Million Dollar Listing, where star realtor Ryan Serhant, on a trip to LA, was introduced to Ocean Towers, one of the most desirable residencies in all of Santa Monica. The elaborate property of 317 units features exquisite ocean and city views, concierge services, doormen, valet parking, private saunas, a gym, maid services, and numerous other lavish amenities.