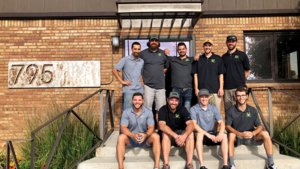 Ropa Roofing, a roofing contractor in the Denver Colorado area, has reached 101, 5-Star reviews online.
Their initial goal was 50, then 100.
Brent Roper the president said, "I believe in quality over quantity when it comes to serving the people in Denver and surrounding areas. Ropa Roofing has the vision to work on a scale that allows me to personally oversee each roofing project. That's the way it should be. Our customers are much more than just a name and address on an estimate & invoice."
Their online customer feedback shows that to be true. https://www.youtube.com/watch?v=qNlcrgCJRFk
Many comments from customers actually call Brent out by name along with the high quality of workmanship his company performs.
He went on and said, "I love to stay involved and present throughout the entire roof restoration process which I guess makes Ropa Roofing a rare find in today's roofing industry. Denver gets some really crazy storms with large hail and intense wind which damages a lot of roofs and also attracts the 'Storm Chaser' roofing contractors who come in, do some spotty work, and then leave right away. We are here for the long haul!"
He finished up by saying, "We are very honored to be a favored roofing contractor in the Denver area, based on the wonderful feedback from our happy customers. Our next goal is 200, 5-star reviews!"
Brent is a second-generation roofing contractor who sees the roofing business as an opportunity to develop long-lasting relationships with his clients and community.
After operating a family roofing company in the state of Georgia for 15 years, Brent and his family decided to settle in beautiful Colorado.
His company serves the Denver metro area, as well as surrounding cities including Aurora, Centennial, Englewood, Arvada, Golden, Loveland, Highlands Ranch, Littleton, Lakewood, Commerce City, Firestone, and more!
You can learn more about Brent and Ropa Roofing by calling him at 720-475-1065 or visit his website http://www.roparoofing.com/
Location Info:
Ropa Roofing
795 McIntyre St. Suite 303, Golden, CO 85401
(720) 475-1065