Business Results Syndicate CEO, #1 Best Selling author and award-winning speaker and small business growth expert T. Allen Hanes is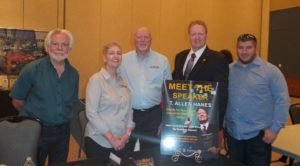 offering small business owners and entrepreneurs $5,000 grants for weekly group coaching at The University of Notre Dame. July 31st and August 1st, 2017.
"In order to survive, all small businesses need to generate more revenue," according to T Allen, CEO for Business Results Syndicate. "The problem is they have no formal process for doing that. We've discovered all small business owners overlook 3 critical marketing fundamentals… and if they would let us help them apply these fundamentals to their business, they would instantly increase their revenue by a minimum of $10,000, and often much, much more. We can help them do that in just 30 days… guaranteed."
We help business owners obtain the funds they need to out-think, out-market & outsell their competition.
Our business is helping Business Owners build successful and profitable businesses. We believe small business is the backbone of the global economy. Unfortunately, the global economy is on shaky ground and small business owners need access to TOP level resources, templates, and strategies to ensure they're success.