Tracy: I'm very excited today to be sitting down with Brian Fielkow to discuss his thoughts on how a company's culture determines its success. Thank you, Brian, for being here today and taking the time to share your expertise on this subject. To start off, could you share some of your backstory about how you became an entrepreneur?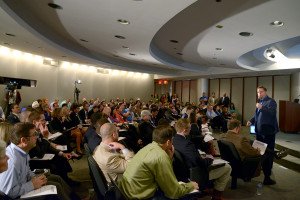 Brian: I think that the desire to be an entrepreneur was something I was born with; it's in my blood. I grew up in Appleton, Wisconsin, where my dad owned his company. I worked in his store and watched the focus he put on developing and empowering his employees. My dad was never concerned about what the competition was doing. He was only concerned about being strong on the inside so that we could offer the best service to our customers. I knew from a young age that I wanted to own my own business after watching the passion my dad had for running his own.
After I had earned my law degree, I practiced corporate law focusing on emerging companies. Through this experience, I learned from the successes and failures of a myriad of entrepreneurial clients. In 1996, I joined my favorite customer, The Peltz Group, a Midwest recycling company, as its COO. Waste Management purchased the business in 2002, and I relocated to Houston as EVP of Waste Management's recycling subsidiary. Then in 2006, I made the decision to purchase Jetco Delivery, a 30-year-old trucking company. It was a longtime dream of mine to own my company.
Before I purchased Jetco, I was an intrapreneur. When I was working in the recycling business, I saw an opportunity to get into document destruction. I built this part of the company, then sold it to Iron Mountain. Purchasing Jetco Delivery in 2006 was my moment of going from "I am going to be an entrepreneur" to "I am an entrepreneur." I had a vision of what I wanted Jetco to be and wanted our focus to be on our people, fleet, and technology. In the trucking industry, just like many other industries, I had to find a way for us to de-commoditize our business. Jetco was tired and needed a lift, but it certainly wasn't broken, and I saw an excellent opportunity to build something new out of what already existed. Out of Jetco, I also built three new businesses: Jetco Heavy Haul, Jetco Logistics, and Jetco Warehousing. Since purchasing Jetco, I've grown the business seven-fold.
Tracy: That's huge success right there, but you weren't done yet, were you? Can you tell us what makes Jetco unique and how it inspired your latest business?
Brian: When I purchased Jetco, I immediately realized that it would be our culture that would allow us to commoditize ourselves. And, building that has been my focus. I think our magic is our culture, and I'm fortunate to have started a business outside of Jetco – speaking to business leaders and giving them the tool to grow their own company's culture. This is how we de-commoditize our businesses. My presentations aren't about theory; they focus on the "how to," and practical ways that leaders, no matter the size of their business, can create a world-class culture. Like my dad, I want to empower my employees. That's what's going to ensure we are giving our customers the best service. The real magic happens when, as leaders, we can step away and watch our team successfully run the business. Culture is not owner-centric. It's about empowering our employees, and I'm fortunate to witness that daily.
Thanks to what I've learned at Jetco and even before that, I can tell a business owner that I can give them the tools to grow their culture so they can ultimately grow their business and bottom line. Many business owners think that culture is a feel-good proposition. But, it's a serious business plan with significant bottom-line implications. I believe it's our culture that has allowed Jetco to grow seven-fold since I purchased it in 2006, and that magic is what I teach other leaders. It's about being strong on the inside and unbeatable out the outside.
My first book, Driving to Perfection: Achieving Business Excellence by Creating a Vibrant Culture, was published in 2014. I'm now working on two books: one that is an extension of my first, and the second, which I'm co-writing with my mentor, focuses on creating a culture of prevention (for those in safety-sensitive industries).
Tracy: You've worked with a lot of business owners, are there some common things you see with company owners?
Brian: I find that many times business leaders have a vision for what they want when it comes to their company's culture, but they don't know where to start. There is a lot of theory out there about culture and there are a lot of good ideas, but they often don't always work for Main Street businesses. What leaders must realize is that the power exists within their organization, and recognizing that, and then developing it is essential. You don't need a high-priced consultant to tell you how to grow your culture; you need the support of your team and to learn how to bring your opinion leaders and front-line employees in.
Tracy: Are there recurring questions or concerns that you hear often?
Brian: I almost always hear issues in the vein of:
Where do I start when it comes to creating or growing a culture?
How do I keep the culture alive and not let it get stale?
How do I ensure my culture reaches my front-line employees?
What are the greatest threats that will undermine my culture?
I talk about these issues in both general business and safety-specific audiences.
Tracy: Is creating a company's culture a do-it-yourself project business owners should undertake?
Brian: My proposition is that creating a healthy culture is completely DIY. You simply have to have the desire to do it. Some of the easiest ways to get your culture up and to run are creating an in-house brand, implementing a culture contract, and learning to take your front-lines with you by bringing them on the inside. I'm in the trenches with the other business leaders I speak to. I'm not a consultant. Running my company allows me to share what works and what doesn't. I offer tools that a leader can take back to their team and implement on their own.