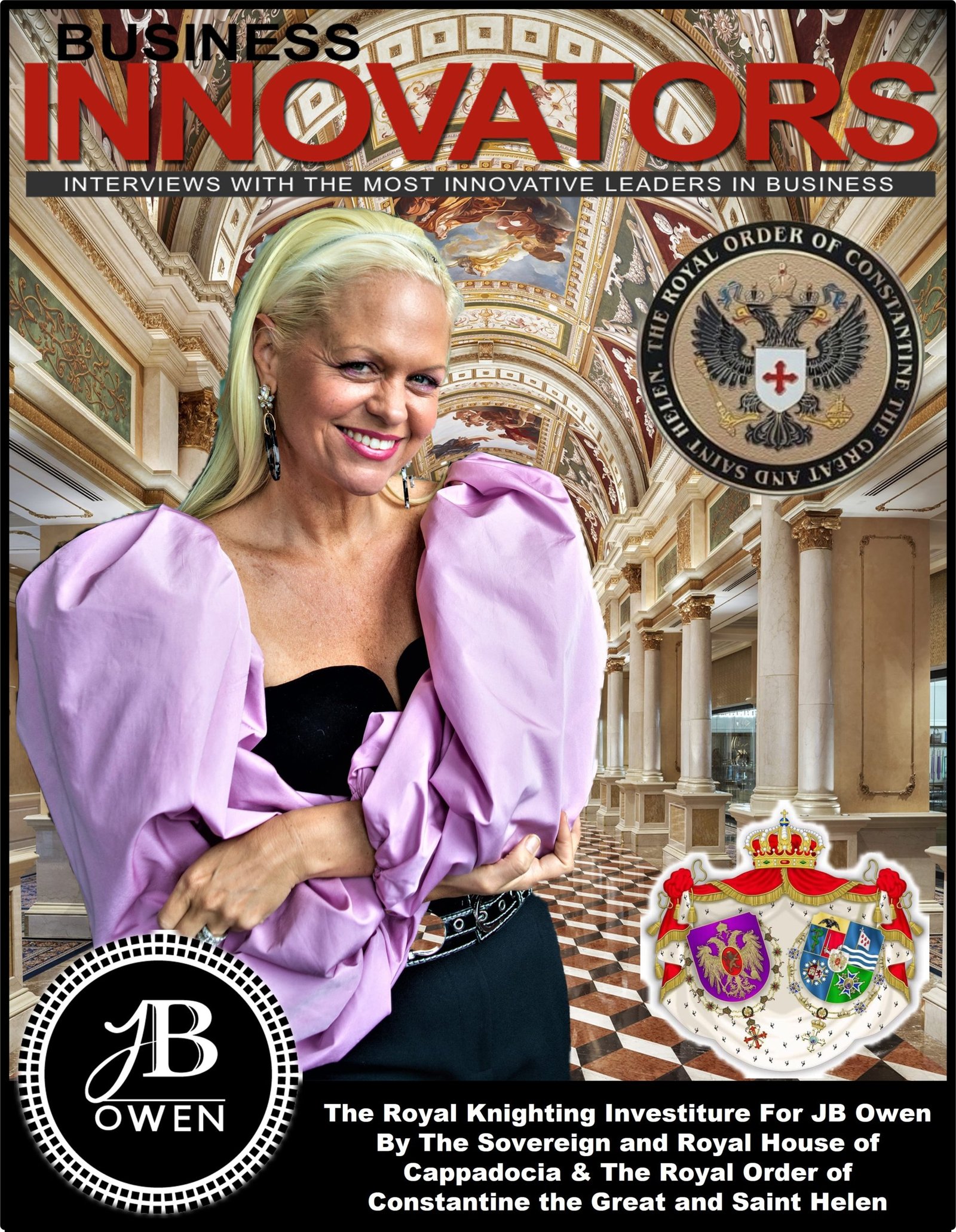 This prestigious investiture ceremony will be held at The Venetian Hotel and Resort in Las Vegas, NV, to welcome new members as Knights and Ladies/Dames on June 4th-5th, 2022.
The Sovereign and Royal House of Cappadocia and The Royal Order of Constantine the Great and Saint Helen will be holding an investiture event at The Venetian Hotel and Resort in Las Vegas, NV, for several nominees, including JB Owen. Owen has been hand-selected and approved on account of her service as a global leader working towards bettering the lives of others.
Much of JB's leadership comes from the incredible impact she has made throughout her 30 years as a female business owner and entrepreneur. Her most recent accolades come from the global impact she has created with her publishing company, Ignite Publishing. Ignite goes beyond publishing internationally bestselling books that focus on empowerment, transformation, and community. They allow authors to share their powerful personal stories meant to inspire and connect with all who read them. What makes Ignite special is that they publish people's Ignite Moments, which are those moments of realization, transformation after overcoming an obstacle, healing after a challenge, or navigating unexpected change. These moments awaken us to a better path forward and a new joy in life. Through the challenges and the ups and downs of life, we gain something powerful from our experiences— from our Ignite Moments. With hundreds of thousands of people reading these profound Ignite Moments, the world is healing, transforming, and coming together.
As Ignite's CEO, founder, and publisher, JB has helped publish over 700 Ignite Moments. She does so in a way that brings together people who have overcome similar things, all while creating an incredible community of open sharing by inviting her authors to dig deep and uncover the beauty of their stories. JB has often urged her authors, "Step away from being the villain or the victim and instead take control of your story and write your Hero's Journey." She also shares, "Your past does not define you; instead, it refines you." Many have walked away feeling transformed and free of their past pain because they joined an Ignite book and told their story. Forbes has even called JB the "Heart-centered publisher."
Authors with Ignite love being part of these bestselling books. One author, Francis Piché, writes of his time at Ignite, "Thank you for igniting magical possibilities for all the authors to share their message and impact the world." Another author, Faraaz Alí, shares, "My experience with Ignite has been one that I am grateful for. The knowledge acquired outweighs any resources committed. A wonderful learning and creative environment."
On the other side, through this authentic storytelling, Ignite books are a hit with readers, having gained thousands of 5-star reviews online. Ignite books have won awards and impacted many lives. Reviews of Ignite's most recent book, Ignite Your Wisdom, have been overwhelmingly positive. One reviewer writes, "Full of nuggets of wisdom of all kinds, and this is a wonderful compilation filled with heartfelt stories."
Another one shared, "A truly thought-inspiring book, packed full of incredibly heartfelt and heartwarming stories, that will help you find another way of looking at life and tackling the problems you are facing. Ordinary people tell extraordinary tales of inner strength and discovery gained from experiences as diverse as surviving a tsunami to dealing with negative self-image and burnout. All of us can learn something from this book, and we can benefit from its wisdom. Highly recommendable!"
JB Owen is changing the publishing business so that the shared stories come from authentic storytellers who want to help others feel inspired, empowered, and ignited in their own lives. Along with JB's other incredible philanthropy work, this global impact is why she is being knighted. Her goal is now to Ignite Humanity and get every person on the planet dedicated to uplifting, inspiring, and uniting each other through storytelling.
During this prestigious event, selected nominees will be bestowed with the honor and the title of Knight or Lady/Dame by His Royal Highness, the titular head of the Sovereign and Royal House of Cappadocia and San Bartolomeo, as well as the Prince Grand Master of The Constantinian Order of Cappadocia and The Royal Military Order of Saint Charles, who has fons honorum, the official and legal power to bestow legitimate titles of nobility and orders of chivalry onto other persons.
The Sovereign Constantinian Order of Cappadocia had its origins stemming back to the Imperial Guard who fought for Emperor Constantine I during the Battle of the Milvian Bridge (October 28, 312A.D.) and, with their heroic victory, led Constantine on the path of becoming the sole Emperor of Rome and towards the beginning of Rome's conversion to Christianity.
JB Owen's nomination comes just as she is about to embark on another one of her inspiring cycling tours with her husband, Peter Giesin. For the past two summers, JB and Peter have set off on their tandem bike on a cycling adventure to show people that anything— even a big, bold dream— is possible; you just have to start pedaling towards your goal! They have also been raising money on their trips for various charities as part of their mission to ignite lives.
In 2020, they cycled 5,000km from Red Deer, Alberta, to Ottawa, Ontario, to raise money for the Sunshine Foundation. The Sunshine Foundation is a Canadian charity that fulfills custom-made dreams for kids and youth in Canada living with severe physical disabilities or life-threatening illnesses.
In 2021, they upped the challenge and cycled 6,700km from Red Deer, Alberta, up to Alaska via the Top of the World Highway and back. They traveled through British Columbia, Alberta, and the Yukon to reach this incredible distance. They raised money for their own charity initiative, the Ignite Possibilities School of Hope. This initiative was created in partnership with the charity Classroom of Hope. Classroom of Hope builds schools in countries and communities where children do not have access to education. Since its founding, Classroom of Hope has built 84 schools, impacted nearly 25,000 students, given away over 1000 scholarships, and more.