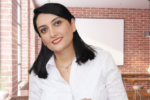 Pantea Kalhor is a Certified PTSD and Fertility Coach who is an expert in helping women who are struggling with fertility issues and recurrent miscarriages or are diagnosed with unexplained infertility. She supports them reset their mind and body connection and find the underlying health issues by an integrated holistic approach and unleashing their reproductive functions even over forty of age. 
In this interview, Pantea Kalhor shares her inspiring journey, success secrets and key actions that you can learn from.
Izdihar: How did you start your Entrepreneurship journey?
Pantea: I used to be an IT project manager but then I was diagnosed with unexplained infertility and after more than 2 years unsuccessful IUI, IVF and other conventional fertility treatments, I could finally have my baby girl naturally conceived. Then I started to write a book "Naturally Conceived" about my journey and then I thought its much better to interview fertility specialists inside my book and create a bridge between conventional and holistic medicine. My book Naturally conceived hit the bestseller two times in amazon once in pre-reorder and once after publishing and I was blessed to have 22 contributors to share such valuable information inside the book.