Jeannine: That is awesome, that checklist, I'm sure a lot of people will enjoy getting that.
Rick: Yeah, it's there for the taking.
Jeannine: On another note, if I am looking for someone like you, what would be the top five questions to ask someone like you? You know, so to vet you, to make sure you actually know what you're doing, because I've personally gone to events, and I don't know if they've got their Uncle Bob or their cousin Jan to be running the audio-visual, but I know my number one pet peeve is they never have batteries for the mic, and the mic goes out halfway through the first day, and someone's running around for batteries and then it happens the next day, and they're running around for batteries. So, what are the questions that you should ask so that you know your audio-visual person is topnotch and that, you know, even though you might have a great budget, you're at least getting the services that you require so your event goes correctly?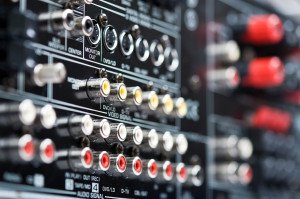 Rick: Great question, and everybody should try to get a really good feel and a really good sense of who that partner is going to be, and hopefully that's going to become something that might turn into a long-term relationship. But, I would first ask for references. Talk to people who have worked with that company or with that person before. Find out where they've been. Do some research. Obviously Google is our friend – so look up the name of that company, that person, look for references, don't just gather references, call them and talk to them. If somebody's got a good word to say or unfortunately maybe there are some times with a negative thing to say, seek out those answers before you go forward with that, and always have two or three in the hopper, call several companies and then see which one might feel like the best fit, who might have the best interaction, have another colleague in your company or in your organization speak with that person, and then the two of your compare notes after both calls so you can see if you get the right sense of 'yeah, I think this person is on the right track,' or 'no, they aren't' and just keep moving on. In other words, also part of the gift of time, to be able to give yourself as much of this stuff in advance as you possibly can. You know, the thing in my 15 years when I came into this industry in 2000, the audio-visual selection of who the vendor was going to be was just about the lowest thing on the selection totem pole, it was the last thing, it's almost an afterthought, and now as we well know with the development of presentation platforms, PowerPoint, video, those kinds of things becoming preeminent and now lots of webcasts and webinars being done globally that are almost in the cannot fail kind of situation, have really elevated audio-visual to the top or very near to the top of the pecking order of things to look out for. So, we're kind of fortunate as an industry, on our side of things, to be able to have the gift of priority, shall we say, so that we really take this seriously, and I would really urge again to try and get into this selection process as early as possible once you get to know that a meeting's supposed to take place.
Jeannine: And is there any sort or certification that would be attached to someone like you that maybe would put you a step above, you know, someone like me who says I tinker with this?
Rick: Yes, there is, and as a matter of fact, if you want to add this to that checklist of things that people should look for when they're looking for a company or an individual to be able to drive the audio-visual portion of their meetings or events is to ask for what certifications they've got, great point. Early in my career, I joined an organization, the leading professional organization that we have in our industry called Infocomm. I've been an active participant in it, I got to conferences every year, I take webinars all the time, and through that process and originally through that organization and now it's done by a third party, there is an industry certification that I achieved in 2012 called a 'certified technology specialist,' or CTS and I wear my button proudly and I've just been recertified for another time, so I wear that designation. But, what it did is it took me into intensive training, both not only in audio-visual technology, but in such things as project management, how to be an expert project manager for your clients from an audio-visual perspective. How to interpret drawings, how to interpret plots for things you hang in the air on tons of motors and things that fly overhead, safety issues and all of those kinds of things and this training takes you into those kinds of various steps. I really consider myself much more of a generalist than anything specific, any branch of being an audio specialist or a video specialist or lighting specialist or whatever it is, and that CTS designation has really given me a broad perspective on the industry and gives me a lot of tools to be able to speak to clients and prospective clients. Great question, and there are other designations out there in various specific fields, so it would be great to ask for any designations from any individual or company that you're interviewing.
Jeannine: So then, this is about the time where I would typically ask what are the greatest misconceptions or the one misconception people have in regards to what it is that you do, but I think you've kind of touched on it that, you know, people think that it's something easy that they can show up to an event and plug their computer into some cord and everything like magic is going to work perfectly, and then there's the budget that I don't need one, or a small budget is good enough, and then you know, actually going back to the first one it's easy that I don't give myself enough time to actually plan in the audio-visual portion of the event. Would there be any other misconceptions that maybe we haven't already touched on that you would also point out or, or did we pretty much hit out on the ones that occur within your field?