In a recent interview with Deborah & David Dennis, the founders of XtraGrow, they talked about how their product has received the designation as the world's first and ONLY Premium Organic Multipurpose Fertilizer which means that it only contains naturally processed plant-based ingredients with no industrial wastes, no heavy metals and no animal byproducts, a new more premium type of organic. This advantage eliminates the unpleasant smells and bacterial contamination from manures, low-quality industrial wastes products, and heavy metal contamination from composts while enjoying enhanced bioavailability of nutrients, healthier and stronger plants, increased yield of flowers, fruits, and vegetables, greater pest resistance, greater freeze, and drought tolerance. 
XtraGrow Plant Food and Soil Nourishment are OMRI listed; 100% Plant Based Premium Organic ingredients create 300% + Yield Increases vs. other less environmentally responsible fertilizers. XtraGrow supports soil enrichment & repair and many other benefits, including:
Global Food Insecurity Solution Via Abundant Harvests
Sustainable and Regenerative Farming Methodology
Job Creation & Entrepreneurial Opportunities
Socially Invested in Diversity, Equity & Inclusion
SBA Registered 8A Woman Owned DBE
100% Sourced, Manufactured, and Grown In The U.S.
Enhances the taste and nutrition of all herbs, fruits, and vegetables
XtraGrow is now featured at HomeDepot.com Largest Home Improvement Retailer in the U.S. On Boards XTRAGROW for E-Commerce, There are 294 Third Party Certified Reviews with  98% customer recommendation!
Sample of Reviews:
SnowyMontana – Pro, Top Seeds Contributor – " I was glad to see this organic XtraGrow product… Perfect
in an organic garden for a vegetarian family."
Theriz – Pro, Top Seeds Contributor – "Xtragrow is Magic in a Bag. Everything your soil and plants need to make better Blooms and Healthy Vegetable Plants. All Organic, Granular Plant Food with a Composter in it."
Hebssaint – "Superb premium organic fertilizer. Never seen such an optimum response in just a few days. These plants are growing inches by the day and are as happy as they can be."
Cait730 – DYI, Top Seeds Contributor – "This product is working great for my fruit trees and herbs… I feel good about using it on my herbs and veggies."
Juiceman – "Should have been called miracle grow. Easy application and immediate results. Adequate packaging."
Highest Rated Plant Food & Premium Organic Fertilizer in the World!
The XtraGrow Challenge
In May 2019 XtraGrow, LLC issued the #XtraGrowChallenge. Ms. Julia Meckley, Miss Pennsylvania Teen USA 2019, accepted the challenge and built raised bed gardens in her backyard in Philadelphia. She used tomatoes and eggplant to test Espoma Garden Tone vs. XtraGrow and weighed the results. The tomatoes looked huge and healthy, but unfortunately, the squirrels loved the tomatoes, so we didn't get accurate results on the huge tomato plants, but the eggplant results were obvious, a 377% increase in yield by weight of eggplant harvested.
The ECO Preservation Project and Captain Planet Approved:
Eco Preservation Project -Validates XtraGrow  https://www.ecopreservationproject.com
Garrett Stuart, AKA Captain Planet, uses his knowledge of Nature to connect our youth and families towards practicing sustainability, safe farming, and gardening techniques. Garrett strategically partners with companies aligned with our vision for a better tomorrow -a greener planet. All proceeds from partners go directly toward providing free education to schools and state parks throughout Florida.
Free Educational Programs for Schools
Clean Ocean Water Sustainably Cleaning Millions of Gallons
Guided Tours Demonstrate Nature Conservation & Sustainability
Captain Planet Speaks about his results with XtraGrow on YouTube:
Click here for the Captain's YouTube recommendation of XtraGrow!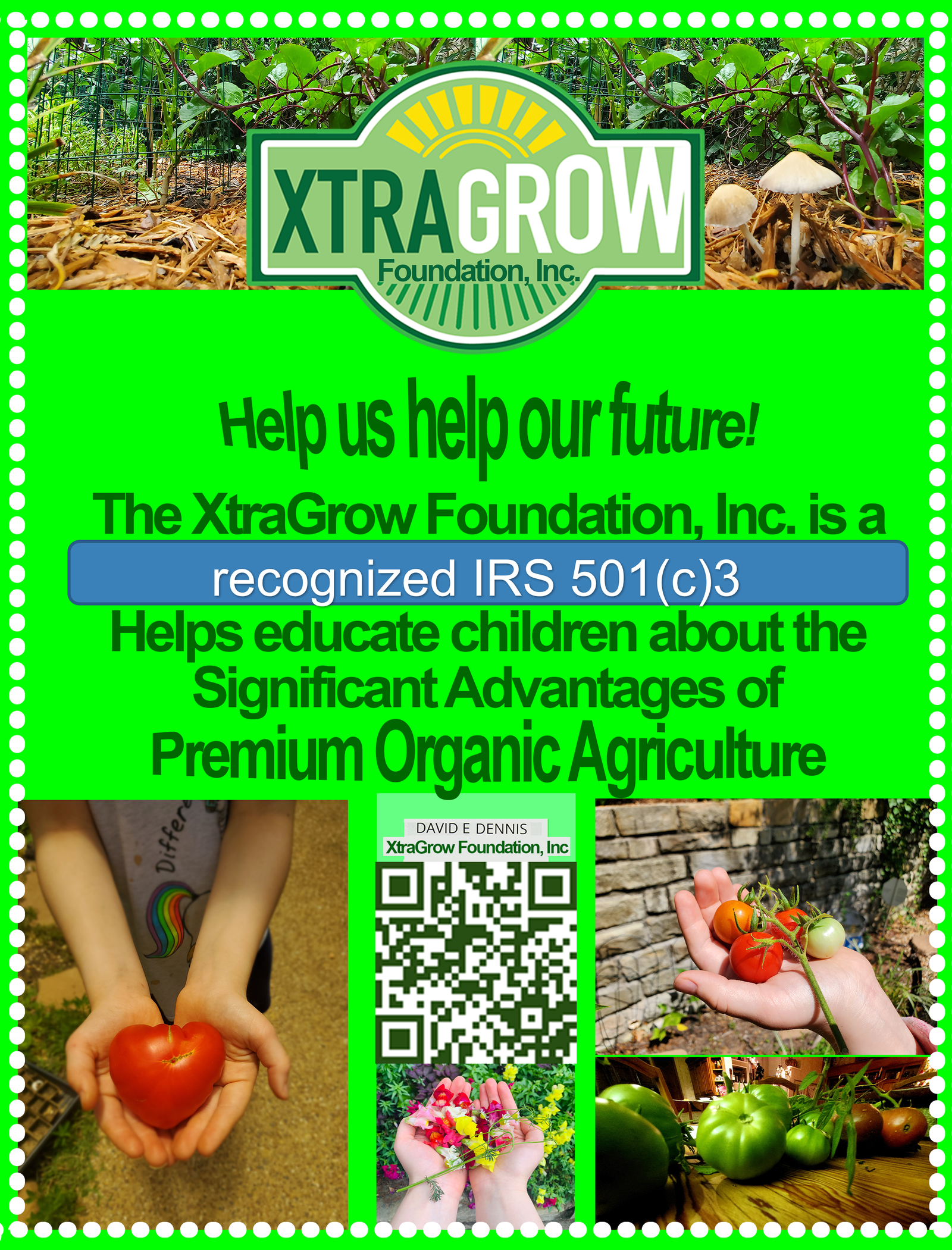 XtraGrow Gives Back:
As an SBA Registered 8A Woman Owned DBE, Deborah, and David Dennis believe in Buckminster Fuller's mission "to make the world work for 100% of humanity in the shortest amount of time through spontaneous cooperation without any ecological offense or disadvantage to anyone." Therefore, in March of 2022, they founded the XtraGrow Foundation, Inc., a recognized IRS 501(c)3, to teach children about Premium Organic Agriculture and farming techniques to help eradicate hunger worldwide, assist regenerative agriculture communities, and create abundance. To join them in this cause or connect with your local school or community garden, visit: https://xtragrowfoundation.org.
For more information about how to purchase XtraGrow, visit www.xtragrow.com