Today we interview Dalia Burgion Founder of Yinside Out, whose mission is to help binge eaters (who value prayer, meditation, and fasting) naturally get control of their eating without having to give up their favorite meals. She does this through a Monastic Program called the Anointed Abbey.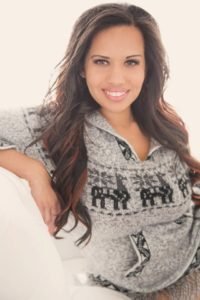 Q: Hi Dalia! Thank you for taking the time to share your story and words of wisdom with our readers. Please tell us a little bit about your background and how you ended up choosing your field.
As a child, I naturally received divine revelation through God's voice, feeling, or very clear movie-like vision clips. Two revelations came to me often. One of them was that I would be healing others by the laying on of hands.
In the other vision, I would be spending hours traveling and praying in different Holy places. For many years, I had forgotten these revelations. However now, with the Monastic Binge Eating Recovery program that I have been led to offer, both visions have come to pass.
Q: Wow! Those are both powerful visions that you have manifested into reality. Within your area of expertise, how do you differentiate yourself from other binge eating experts?
There are many options for Binge Eating Recovery. Most facilities specialize in the behavioral or nutritional fields. Although I have greatly studied in these fields, my specialty lies in a Monastic Lifestyle. My program includes more than a diet plan or counseling. It also combines spiritual healing, a development of our gifts of the spirit, and a deepening of a bond with God. The Anointed Abbey is for those who always wanted to heal in a Monastery, but haven't had the means to do so.
Q: You have definitely found away to set yourself apart from others in your industry by adding the spiritual aspect to your programs and counseling. You are an entrepreneur who has created your own lane in a major way! We are entering an era where everyone is interested in multiple income streams. How does one decide on a business to pursue?
There are three things to remember. Your business must be something you enjoy, something you naturally gravitate towards, and something you are naturally a little better at than most people. This is how you know your specialty. Once you know what your specialty is, then it's important to spend most of your time either doing it or developing it so that you become the best at it. So long as your business fall within these three areas, it will be satisfying and thus easier for you to succeed.
Q: How can you be reached if someone is interested in your products or services?
I host a fabulous FREE Facebook group called
Faithful Fasters
. We support you through wherever you are in your Binge Eating Recovery. We also love to assist anybody who is fasting and might have questions. I also will doing weekly Livestreams on Facebook and Youtube (starting Jan 2018).
You can learn more about my programs and resources at
www.fastingforcontrol.com
. Follow Me @fastingforcontrol on Instagram as well.
Thank you Dalia for sharing your story and wisdom with our readers. Best wishes to you on all of your future endeavors!