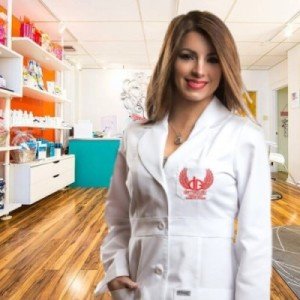 Imagine an artist's palette with paint cups representing different fields of study: traditional art, professional makeup artistry and clinical skin care. Valerie Weber skillfully blends her background and expertise in each field as founder and CCO of the award-winning Dermagrafix Permanent Cosmetic Studio, LLC.
Her flagship location is in Doylestown, PA. Most of Weber's clients are from the tri-state region. As word spread about her knowledge and ability to change lives through permanent cosmetic art, clients started flying in from across the nation and abroad. A highly regarded educator and speaker, she is a lifetime member and instructor of the Society of Permanent Cosmetics and is CPCP certified. A second studio is planned for Philadelphia.
In an interview with BIM correspondent Stephanie Miller, she talks about the art and her mission to create natural and artistic enhancements giving people a better quality of life and more self-confidence.
Stephanie: Tell us how you evolved into a Permanent Cosmetic Professional. It sounds like you were focused on art at one point.
Valerie: Absolutely. When I was a kid growing up, I was into art, so I spent many years doing artwork, whether it was drawing, painting or even sculpting. Then I decided to move on; as I grew up, I got into makeup artistry. Makeup and art go hand in hand, and are part of a firm foundation in permanent cosmetics.
Another part of my background is in skin care. I went to school, became an esthetician and that is really where all of this started. I wasn't really sure which direction I wanted to go; permanent cosmetics sort of evolved for me over time. I started out helping people with their skin, learning about skin care and incorporating the arts that I grew up with into the makeup artistry that I went to school for.
I built relationships with other professionals and clients. I gained their respect. Then, I started to see that there was something more I could do. Part of being an esthetician was helping people to correct their skin problems. That was a big challenge for me. I enjoyed it because I did feel like I was helping, but it's also because I'm the type of person that likes a challenge. This was a natural transition, because I was able to help people achieve something and it made both of us feel really great. Permanent cosmetics was just a natural progression for me. Without an art background, I really don't feel like anybody is able to tattoo, so I think the art background is essential.
Stephanie: What is the difference between a tattoo and permanent cosmetics?
Valerie: Great question. It's a common misconception that permanent cosmetics is not a tattoo. In fact, cosmetic applications are implanted using the same or similar equipment as a tattoo. The main differences are the techniques used, pigments used, and education. Some advertise "semi-permanent" makeup and I think it's misleading. I'm a member of the Society of Permanent Cosmetic Professionals and because I'm also an educator in the industry, I have an obligation to educate people with the correct facts.
I call it permanent cosmetic tattooing, permanent makeup, cosmetic tattoo–there are many different names. The main difference is the concentration or type of pigment being used or the technique used. Permanent cosmetic pigments fade faster than body art pigments and are manufactured to do this for a reason.
Stephanie: And that reason would be…?
Valerie: Mainly, for aging. Sometimes permanent cosmetic pigments can be seen for a decade or more. In most cases, when the pigments fade, they allow the artist to make adjustments to accommodate the aging canvas.
Another misconception is that permanent makeup isn't permanent. We want to be able to alter permanent cosmetic tattoos as we age. Body art does not need to be altered to accommodate aging. Some advertise that their permanent cosmetic procedures are "semi-permanent," and that is misleading to clients! Even if fading occurs, pigment particles remain in the skin and have to be considered permanent for this reason. A touchup every few years can resolve aged pigment residuals in the skin.
Stephanie: Can you describe who you help with permanent cosmetics and how what you do helps them?
Valerie: The effects of aging, trauma, disease or conditions that leave individuals with hair loss, loss of skin pigment, scars or even disfigurement can have an effect on their self-esteem and appearance.
People that have vision impairment or physical disabilities—I actually work on several blind people. I have clients who are disabled, have ALS, so they can't put makeup on, yet they still are trying to go about their regular everyday life. I feel that people should be able to look their best. I don't think it's vain that somebody wants to wear makeup; it's just part of our society and people with disabilities should be able to love the way they look and feel.
Stephanie: Right. Because self-esteem is so important.
Valerie: Absolutely, self-esteem is huge for people. I also help people who suffer from thyroid conditions, Trichotillomania, the effects of chemotherapy, hair transplant surgeries and traumatic accidents.
Stephanie: What is Trichotillomania?
Valerie: The clinical term, Trichotillomania, also known as trichotillosis, is a hair-pulling disorder. It can consist of pulling hair from any part of the body: the scalp, eyebrows, eyelashes, beard, chest, arms and legs.
Through my hair simulation techniques, I can create a natural hair follicle-like appearance for both men and women that will age gracefully and be undetectable. Using permanent cosmetics, I help change the lives of people who are alopecia clients to help restore eyebrows, breast cancer patients where I'm restoring the areola and nipple area for somebody who had had that removed during a mastectomy, and even children, with parental consent.
Stephanie: Why would someone choose permanent makeup over traditional cosmetics?
Valerie: A lot of people have problems applying traditional cosmetics and the results are very temporary. They're using camouflage creams for their scars or perhaps to camouflage hair loss. Each of these things requires time and ability…and they're not sweat resistant or water resistant, so when people try to improve their appearance, there's some baggage that goes along with it. It's not very convenient, it's not user-friendly.