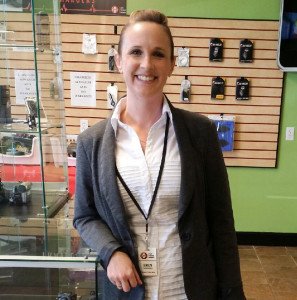 Laptops, smartphones, or tablets can be essential to daily life and no one has time to be without their essentials. In the devastating event that a gadget breaks, the gadget owner wants an expert to handle the repair quickly and correctly. Cell Phone Repair better known as CPR is a part of the largest independent walk-in cell phone repair service provider chain in North America. They specialize in the same day repair of cell phones, computers, cameras, and most any other electronic gadget thrown at them. Co-owner Erin Weichelt discusses her road to becoming an entrepreneur and how CPR is able to stay relevant and successful in a time where businesses come and go like days on the calendar.
Q.When did you know you were going to a business owner?
I was hired on at CPR Cell Phone Repair as an outside sales person. CPR Cell Phone Repair is primarily a repair shop for all small electronics i.e. cell phones, tablets, gaming systems, and computers. My initial job was to go out in the community and meet business owners, explain our services and how we could help maintain their electronics. I was promoted to Store Manager a week after I started with CPR and within 6 months I was promoted to General Manager of our 3 locations. I had worked for CPR about a year and a half when my business partner Lan Reliford and I were given the opportunity to purchase 2 of the locations we had been managing.
Q.What service do you provide that keep the customers coming in?
CPR Cell Phone Repair is primarily a repair shop for all small electronics ie cell phones, tablets, gaming systems, and computers. We also buy, sell and trade cell phones, tablets, gaming systems, and computers and their accessories.
Q.What happened that made you sure this was the type of business you wanted to invest in?
Technology is ever changing and improving. As our dependence on mobile devices and computers increases, so does the need for a competent company that can repair and maintain those devices.
Q.What are the main ways that you get the word out about what your business is doing to potential customers?
Local radio, sponsoring sporting events and online we have an agency that handles digital strategy for us, they take care of all of our social media, online and web stuff.
Q.Is there any one specific thing that you attribute to making your business a success?
Lots of hard work and a little dumb luck.
Q.What do you feel makes your business different or unique about your business?
We are a "yes" company. We go above and beyond every day to help our customers. Our goal is to give every customer a good solution to whatever problem they have. We are dedicated to finding a way to fix the device same day. This reduces or eliminates customer device separation
Q.If you had one piece of advice to someone just starting out, what would it be?
Remember working with customers isn't always easy, but taking care of a customer is always the right thing.
Q.If you could time travel back to day one of your startup and could give your former self one piece of advice based off of the lessons you've now acquired what would it be?
Relax you are just picking up where the manager left off, and you were an awesome manager.
Q.What is the biggest hurdle you had to overcome while starting your business?
Money just money plan and simple.
Q.You have three stores open 6 days a week, where do you draw your inspiration from?
I have an amazing Mentor, Rick Bouse the previous Owner of CPR. I have a brilliant business partner, Lan Reliford and a wonderful family; My husband Chet Weichelt and my daughters Grace and Skylar.
Q.As I am sure you have experienced, being a successful entrepreneur entails a lot of trial and error. What was your biggest failure and what did you learn from it?
I think my biggest failure was in buying stolen devices. Obviously I did not know they were stolen. It is an awful feeling to realize you have been taken advantage of. That experience taught me one everyone makes mistakes and showed me that even I needed to review the standard operating procedures.
Q.How can a budding entrepreneur capitalize on overlooked, ignored, or neglected market needs?
Listen to your customers, that's the best advice anyone will ever tell you. Your customers will tell you where you can improve and what you are doing well. Just listen, there is always something to be learned.
Q.What has been the most satisfying moment throughout your experience?
Signing the lease for our 3rd location.
Q.What sacrifices have you had to make since starting your business?
The sacrifices that I have made are time, money, and a little sanity.
Q.What are your future goals for your business?
Our goal is to take over the world, the options are limitless. In the short term, we are hoping to have 5 locations in 5 years.
Excluding yours, what company or business do you admire the most?
H&R Block in Rolla, Missouri handles our accounting. This company is wildly successful and has the greatest group of ladies working there. It is professional and yet has a comfortable vibe.
Well, there it is. 
Erin I can't thank you enough for sitting down and sharing your entrepreneurial journey.
CPR Cell Phone Repairs – RS, Saving One Gadget Life At A TIME