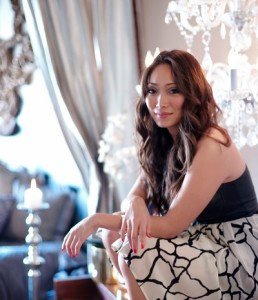 The daughter of an interior designer, Annie Lee is the principal planner and founder of Daughter of Design and author of Learn to Speak Wedding: Flashcards for Beginners.
Focused on understated elegance, Daughter of Design is considered a fashionable boutique wedding design.
It is widely acclaimed for its downtown approach to classic wedding traditions, always creating current and artistic designs.
I sat down recently with Annie to learn more about her firm.
Ida Giroday: Annie, tell me more about who you design wedding events for.
Annie Lee: My clientele is very much the "cool kids" with an uptown upbringing and downtown lifestyle. They are creative, fashionable and want a wedding that reflects their personality.  
I offer fresh and current tasteful designs that make a wedding evergreen. I like being ahead of the trends while honoring the things that are timeless. It's about being innovative without losing the traditions.
Getting married is a rite of passage so it's very important and symbolic.
Some parts have a lot of meaning and are important to honor. Other parts that are not rooted in religion or customs are easier to be more flexible with.
Visual design is where you can be more creative and do something different.
Ida Giroday: What challenges do your clients face when they first come to you?
Annie Lee:  There are always 2 things:
First, the clients feel lost. Having a wedding planner is like having an accountant. You can do it on your own, that's fine but it is just so difficult. Or you can go to a professional and get help.
The second issue is that the clients are faced with too many options. The list of wedding professionals in every city is endless and there are so many blogs and articles out there on the subject.
Analysis paralysis then strikes because there is so much pressure behind the organization of a wedding.
Ida Giroday:  Do you find that because you deal with a very high-end type of clientele the stakes are even higher?
Annie Lee:  No, everyone feels the pressure and there is always a budget. But there is also a desire to impress their guests and throw something memorable that will blow everyone off.
Ida Giroday:  Do your clients have some misconceptions about wedding planning that you need to address?
Annie Lee:  I think people hear about how emotionally difficult it can be to plan a wedding. It's a little bit like having a baby, until you've been through it, you don't really know what it is about.
Clients often think everyone is going to be happy and excited about their wedding plans but it's often the opposite.
You mother becomes very controlling, your sister is jealous and will say things like "I can't believe my little sister is getting married before me."
Girlfriends will say "how come she picked this other friend as maid-of-honor."
I warn my clients they have to be the one that is understanding and cater to those around them so that they feel needed and wanted.
Weddings really ignite issues, any old wounds open up. You can go to your therapist's office and say what you want about your Mom, and the therapist never has to meet her.
But clients tell us about their mothers and we spend a year with the bride-to-be and are there on the wedding day.
We have to know how people are going to behave on that day so we can anticipate their needs.
For example, if a mother is jealous of her daughter, and that happens often, that morning she needs extra tending so that she feels special and doesn't act up and make the bride have a difficult day.
The other thing clients are estranged to is cost. They really underestimate the cost of a wedding.
There are so many beautiful pictures to see online, it's becoming the new "normal".
For example, a client looked at pictures of a wedding and wanted the same, but thought the budget was 10 times less.
Even if they end up spending the same amount, they really are way off. Especially if it's their first major social event.
So there is always a need to first educate the clients. And I tell them everyone goes through this, it's not just them.
 
Ida Giroday:  Aside budget and emotional issues are there any other pitfalls?
Annie Lee:  We pick one day a year in advance and we don't know what can happen by that date.
I had a wedding the day Storm Sandy was coming and we had to evacuate because we were in flooding zone A. Hours later the place where we were standing was flooded out.
And then a week later I had another wedding. But because that place was also flooded out, we had a week to find another venue. Meanwhile, the bride and groom are living in their apartment with no electricity or water.
So when the unexpected happens we troubleshoot, are resourceful and find the best solution as fast as possible.
From having this job I learn the best life lesson about what is worth fussing about and what is not. When things are really out of your control, you can only try to find the best solution.
Because a wedding is like a live show there is no time to daydream, I have to act really quickly and have no time to waste.
Most of the time clients don't know what's going on backstage.
Ida Giroday: Are there other fears that sometimes hold back your clients?
Annie Lee: Price is discussed early on so that no one wastes any time, so if they continue the conversation with us that means they are within it.
Because it's a whole new world for the clients, the fears are usually around how the whole planning process works. They don't understand what the event designer does, what the event planner does, who rents what, what the details of the costs are.