In today's interview I am going to be talking to Alex Lorenzana and he will be sharing with us things you might've always wanted to know about if it is a good idea or not to work with a Mortgage Loan Officer.  Enjoy!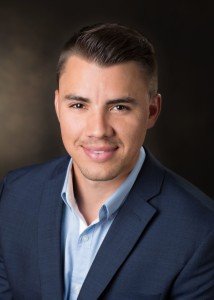 H: I am talking with Alex Lorenzana and he is a mortgage loan officer. So Alex, tell us about the Guild Mortgage Company and the type of clients that you work and service as a mortgage loan officer.
A: Guild Mortgage Company, they started in California and are slowly growing more and more and more. We are now the leading private lending company in the US. We do a lot to give back to the community, we do a lot of events, and fundraiser opportunities. Working at Guild Mortgage, I get to work with a wide range of people. You know, people who have a strong profile and get purchase right away; and also with people who need help strengthen their credit and/or other aspects of their file, in order to purchase and attain their goal of home-ownership. We get to work with everybody and anybody that needs to buy a house or refinance their house.
H: So, what is at least one big problem you specialize in solving?
A: Helping people get approved so that they can actually buy a house. A lot of credit issues, a lot of credit challenges.
H: What is the difference that people have in their lives after achieving the outcome by working with you?
A: They learn how to be more responsible with their credit, they know how their credit works, and how to increase their credit scores . It helps them attain their long dream of home ownership. It helps them to feel empowered, that they can afford a house, a place that they can call their own.

H: What do you feel are the biggest myths or misconceptions about working with a mortgage loan officer?
A: I think after the whole collapse of the housing industry through 2008 to 2010 a lot loan officers got a bad reputation from a lot of the loan officers back in those days– they were selling out loans to people who couldn't even afford it. Knowing very well that they couldn't afford the payments, which led to foreclosure after foreclosure. So in a way, some people may think "do they [loan officers] have my best interest at heart?" And that's one of the things that I love about Guild, that we are incredibly focused on our customers, our customer service, and we work around their goals. Nowadays, we are very regulated, we are licensed professionals. We go through yearly FBI background checks to maintain our licenses; we also go through credit checks every year because they don't want somebody with bad credit to try to tell someone how to fix their credit. A lot of the sub-prime lending has decreased significantly, and the whole process is now federally regulated.
H: What are some of the things that used to apply as a Mortgage Loan Officer, but no longer do?
A: While I did not work in this industry back in the day, I could only speak for what applies today. It is a challenging business to get into. It's definitely not for those looking to make a quick payday; mainly those new to the business. Otherwise, things that apply today are things that apply to any successful business.. patience, resilience, discipline, trusted relationships, surrounding yourself with other like-minded individuals, Service, care, and love for what you do.
H: What are some of the most common fears people have about working with a mortgage loan officer?
A: Misconceptions about working with a loan officer.
H: What are some of the little known common mistakes that are made when people are trying to work with a mortgage loan officer that you would like people to know?
A: That there are very specific guidelines today. It can't always just be the way you want it to be. You have to learn how to be flexible– and really understand, that we deal with different programs' guidelines, and constant learning and education to be able to help and guide you the best way. Purchasing a home (or even refinancing it) is a process, not a quick overnight step.
H: What are some of the potential risks / consequences involved while working with a mortgage loan officer?
A: Positive consequences– you get into a good loan program that makes it affordable for you to get into a house, into your own home. As for negative ones, the client is very protected today because of federal regulations. If anything, there are a lot more negative consequences for a loan officer if they mess up.
H: What happens when a loan officer makes mistake nowadays?
A: It depends on how big the mistake is. If it's something as simple as, "I forgot to pass in a piece of paperwork for our processors," well that's very fixable. All we would do then, is talk to our client and tell them that we are missing a form/document. They give it to us, and we give it to processing. Simple as that. If someone tries to commit fraud and puts the wrong information on the loan application on purpose, that doesn't belong there– to try and make the file look better so that they can approve it– and that person and office is later audited, and they catch a few of those– you can face very high fines and even prison time. In addition to not being allowed to be a licensed loan officer, or work in the financial industry again.H: How have you been able to help your clients overcome the misconceptions and all the bad reputation that the mortgage loan officers now have?
A: The most important thing is to be very personable. To conduct business in an ethical way, to communicate with your clients as best as possible. Show your clients what loan programs they might be able to qualify for and work around their goals. Try to really customize it all according to what their main goals are short and long term for the house and for their finances. Being there every step as well as following through– the deal is not closed when the loan closes– You have to follow up, you have to make sure you have a continuation of client service. Eventually you build that trustworthy reputation, and your business flourishes. (CONTINUED ON PAGE 2)